Rape reports marked as 'no crime'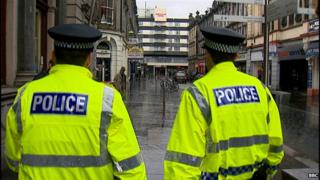 New figures obtained by the BBC show that in the past four years almost 1,000 reported rapes have been dropped by police and marked "no crime".
The figures, revealed by the Scotland 2014 programme, also showed significant regional variations across Scotland's new single force.
Police Scotland has made rape a high priority.
Officers said some cases were dropped because allegations were rescinded or because of insufficient evidence.
But justice sources claimed there were concerns about regional differences and why and how some cases were not passed on to prosecutors when rape conviction rates were already considered low.
No crime
In the former Grampian force area in the past four years a third of rapes (34%) against women reported to police were marked "no crime".
And more than a than a third (36%) of those recorded were unsolved.
However, in the former Lothian and Borders area just 5% were marked as "no crime" and not passed on to prosecutors.
Here, undetected crimes against women in the past four years sat at 41%.
Sandy Brindley, of Rape Crisis Scotland, said: "Rape is a very traumatic crime and it can be very difficult to decide whether or not to report it.
"No matter where somebody is in Scotland, they should be able to have confidence that if they report it, it will be treated seriously, and they will be treated with sensitivity and respect."
She said police had made a lot of steps in the right direction.
However, she added: "I think our concern from these figures is to see how many cases are not making it beyond the police stage and what that shows is a huge justice gap in Scotland for anyone who survives rape."
'Not supportive'
One woman told the BBC she did not pursue a rape case against her ex-partner.
"Kate", who cannot use her real name because of the risk from her ex-partner, said he had been convicted of assaulting her and had threatened revenge.
She said: "Five years later I was walking from my house to the local shops and he appeared from nowhere [and] raped me on waste ground,.
"His words were: 'if you tell anyone about this, these will be the last things you ever say'.
"The police came and fitted extra security to my house but the CID themselves were very unhelpful, very intimidating. Not supportive, not empathetic."
Kate said she was so afraid of his threats she did not pursue the case. And ultimately it was marked "no crime".
Det Supt Louise Raphael, of Police Scotland's National Rape Task Force, said reports of rape had risen in the first year of the new Police Scotland.
She said: "We regard this as being a positive trend given that, historically, the levels of under-reporting are unacceptably high.
"We will continue with our efforts to increase confidence in the criminal justice process and view our work with partners, particularly those that support rape victims, as being vitally important."
Detection rate
Det Supt Raphael added: "We made a commitment at the inception of Police Scotland to target rape. This resulted in a detection rate of 71.8% for the year 2013-2014, an increase of 10.4 percentage points from the previous year.
"We conduct a full review of every rape that is reported to us that does not result in a detection. In year one that amounted to over 540 cases.
"There are many reasons why crimes that are initially recorded as rape are either subsequently marked no crime or are reclassified as an alternative crime following investigation.
"Local Heads of CID ensure that this decision is appropriate in every case and that Police Scotland are fully compliant with Scottish Crime Recording Standards.
"In addition the National Rape Task Force reviews every 'no crime' incident across the force area."