Glasgow 2014: Refunds after Games travel problems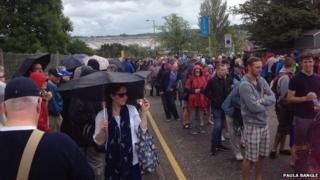 People who missed Commonwealth Games events due to transport problems in and around Glasgow at the weekend have been told they can apply for refunds.
Organiser Glasgow 2014 said spectators affected should keep their tickets and apply via email, with requests being considered on a case-by-case basis.
The huge number of visitors at the weekend overwhelmed transport links at some park-and-ride facilities.
This resulted in some people missing the start of the athletics at Hampden.
Lord Smith of Kelvin, chairman of Glasgow 2014 organising committee, said he was "disappointed" some spectators had experienced problems with Games travel over the weekend.
"Seven hundred thousand people came into Glasgow - that's the same as the population of Glasgow - over the weekend," he said.
'Regrettable glitches'
"Although you prepare for it there were some glitches and that's regrettable."
A spokeswoman for Glasgow 2014 said a refund policy was in place for cancellation or delay of sports events.
"This requires spectators to request a refund via email to contactus@glasgow2014.com," she said.
"This policy would also apply to any spectator who missed their session at Hampden Park due to park and ride shuttle issues.
"Refunds will be considered on a case-by-case basis and we would ask spectators to hang on to their tickets as these may be required for a refund together with their park and ride booking reference number."
The spokeswoman said no refunds would be issued at any of the Games ticket offices.
First Group was awarded the contract to oversee the delivery of shuttle bus services to Games venues, and is being supported by other sub-contractors.
BBC Scotland spoke to a travel industry official, who did not want to be named, who said many of the problems over the weekend were down to scheduling issues with buses.
'Crazy' planning
The official said it was usual for bus schedules for large sporting events to be drawn up weeks in advance.
The schedules to support the athletics at Hampden in Glasgow, the official said, were still being finalised days before the travel problems over the weekend.
This was "crazy", the official said, and led to problems with drivers having to be reassigned to avoid breaching working time regulations.
BBC Scotland put the issues raised by the official to Glasgow 2014.
In response, a spokeswoman said: "The park and ride service is running well today and all spectators are getting to venues to enjoy the events.
"All of First's sub-contractors are involved and all drivers operating a Glasgow 2014 service have been trained in the routes. They also have a pack of materials available on board to help them further if they need assistance.
"All operators must abide by legal regulations in terms of drivers' breaks but this has been taken into account in their scheduling."