Quirky stories from Glasgow 2014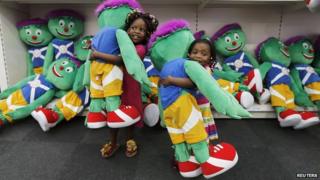 It's been described as the golden Games for Scotland, with the home team exceeding most people's medal tally expectations.
However, forget who won what for a moment. Glasgow 2014 has also provided a fair share of quirky non-sporting stories.
From noxious weeds to miniature transit vans - here's ten for starters.
1) The Games mascot - lucky to be alive
The cheeky thistle mascot for Glasgow 2014 has been a best-seller. Two sizes of the soft toy have sold out, with more than 46,000 purchased since the beginning of July.
But the cheer leader "weed" has raised a smile among the Australian delegation for all the wrong reasons.
Janice Crosswhite, wife the Australian Commonwealth Games Association CEO, told BBC 5 Live, she usually killed thistles when she sees them.
"I'm not so happy about the thistle because on our farm in Australia, the Scottish thistle is a noxious weed and I have to kill them," she said.
"You don't let your cattle eat them because it's not good for them.
"So I'm always spraying them, standing on them, and digging them out.
"And then you come here and we're buying it as a toy for our grandchildren!"
2) Sir Chris Hoy's security woes
Sir Chris Hoy was stopped from entering a velodrome named after him, yet a fan had no trouble gaining access to the cyclist's taxi for a quick "selfie".
He told BBC's Commonwealth Games Nights radio programme how a security woman had stopped him walking into the Sir Chris Hoy Velodrome because his pass had been back to front.
"I walked through the door and this arm grabbed me and the girl said 'can I see your pass'," he said.
"She looked at it to make sure I had the right access to the right area.
"It was fine- she was just doing her job.
"But then it got tweeted about and the papers have been talking about it."
Sir Chris described how security was somewhat lacking a couple of days later when he was on his way to the stadium in a taxi with his wife.
He told the BBC's Tonight at the Games that they were sitting at traffic lights when he heard a knock on the window.
"There was a chap there holding his camera up, and I was like: OK take a picture," he said.
"But he thought I meant come into the taxi!
"He grabbed open the door, jumped in, took a selfie and got back out again."
3) Athletes' parents in the spotlight
South African swimmer Chad le Clos, who won a record seven medals at Glasgow 2014. Yet the father of the Olympic gold medallist still had a bone to pick with him.
Bert Le Clos told BBC 5 Live that his son's bedroom was "the worst".
"It's impossible," he said. "Once we were in Rio for the Laureus Awards and we had this beautiful hotel room.
"He brings stuff from the outside to mess inside - he finds things like empty bottles.
"He is one of the messiest boys in South Africa for sure."
Another impressive result in the pool came from 13-year-old Erraid Davies who won bronze in the 100m breaststroke SB9.
But her parents, David and Joyce, weren't planning any large-scale celebrations for her - just cake and Irn Bru.
Speaking on Commonwealth Nights, Joyce said: "The sounds very mean doesn't it!
"It just shows how the motivation comes from herself and not from being rewarded from doing it afterwards."
4) Dream jobs
There must be many people working at Glasgow 2014 who believe they had the best job at the Games. But one contender must surely be the post of red van remote control operator.
These tiny remote-controlled transit vans zip about, ferrying javelins, discuses, hammers and shots back from the field to the throwing area.
Imagine being in charge of one of these nifty gadgets in front of the Hampden crowd.
5) Athletes' celebrations
Table tennis at Glasgow 2014 could be remembered more for the athletes' celebrations than the results.
Scotland's Gavin Rumgay caused quite a stir with his "wedgie". Only to be matched by Nigerian table tennis Ojo Onaolap who celebrated by pulling down his shorts and lifting up his T-shirt,
In other sports, athletes chose the medium of dance to express their joy at winning. Nigeria's gold medal-winning freestyle wrestlers Odunayo Adekuoroye and Aminat Adeniyi both proved almost as impressive on the dance floor as they were on the wrestling mat.
Scotland's lawn bowl stars Alex Marshall and Paul Foster secured the pairs gold for Scotland, with an earlier win over England.
He later insisted his joyous "get it up ye" celebration in the semi-finals was purely down to being "caught up with the emotions at the time" having just played "the best two bowls of my life".
And don't forget the marriage proposals. Team Scotland cyclist Chris Pritchard proposed to his girlfriend after finishing his race.
Then Scotland's para-sport cyclist Aileen McGlynn was presented with a ring after winning a silver medal, when her partner proposed.
6) Spectator Cam
Efforts have been made to entertain/embarrass the crowds at these Games using well-used methods such Mexican waves (re-named "the weedgie wave"), kiss cam and bongo cam.
But new to many, is highland fling cam. If the camera picks you out in the crowd, you are supposed to show off your best jig on the big screen for your fellow spectators.
The Herald newspaper's diary section picked up on one worried journalist's quest to avoid the dreaded cam.
BBC online reporter Jamie Ross was at the Games wresting, and tweeted: "They're zooming in on audience members and forcing them to dance. So afraid. This is why I don't leave the house."
Minutes later he tweeted: "Oh my God. The commentator just read my 'this is why I don't leave the house' tweet out loud, and then tried to identify me. I might leave."
Jamie should spare a thought for the police officers who found themselves taking part in an inflatable wheel challenge in front of hockey spectators.
7) Surprising weather
The Games started with a surprising window of sunny weather. In the first week, Glasgow saw an average temperature of 17C, with highs of 28C.
It couldn't last for ever, and the city's infamous grey skies eventually returned.
TV cameras caught Australian lawn bowls player Kelvin Kerkow taking desperate measures to escape from the rain.
Meanwhile, one group of athletes were actively seeking out colder conditions for a spot of sledging.
Competitors from the South Pacific island of Vanuatu had never seen snow, until they visited Scotland's indoor snow mountain Snow Factor.
8) Photobombs and selfies
It seems no-one can escape the race for the best Glasgow 2014 "photo-bombs" and "selfies" photographs.
Two Australian Commonwealth Games hockey players were left stunned when the most famous royal in the world appeared smiling in the background of their picture.
While three security guards were removed from duties at the Games after reports they took selfies with Jamaican sprint star Usain Bolt.
9) Eating their words
BBC presenter Gaby Logan admitted being "rumbled" after Usain Bolt broadcast a cheeky message to her.
Bolt said he heard the presenter say "they are enjoying the Games without (Yohan) Blake and me", before insisting he was "a fun person" and giving a jig to the camera.
Logan replied that she actually said the Games were "okay without him and now he's here it's better, obviously it's better".
Earlier in the week, boxing legend Barry McGuigan inadvertently revealed the result of a pre-recorded boxing bout, leaving BBC Sport's Gary Lineker in stitches.
And BBC Scotland's Tom English must have regretted his quip on BBC radio's Sportsound programme - that he would wear a dress at the Games closing ceremony if New Zealand didn't win the Rugby 7s.
10) Helping hand
It's been dubbed "The friendly Games", and it certainly brought us some heart-warming stories.
There were the two Malawi athletes, Missi Kathumba and Leonard Tsoyo, who were given new bikes by an independent cycle shop in Glasgow.
Then there was boxer Taoriba Biniati, who had never fought another woman.
Biniati flew out of Kiribati - a group of islands in the Pacific Ocean - with only the uniform she was wearing and a pair of trainers.
When she arrived at a Glasgow gym, the owner bought her some proper boots.
And who could forget the four members of Sri Lanka's Commonwealth Games team who were assisted by police... off the M74 near Glasgow.
They were seen on one of Scotland's busiest stretches of road at the exit for Motherwell and Hamilton before being told they were breaking the law.