What influenced Scotland's Games medal haul?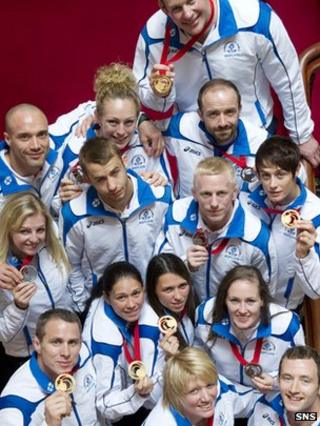 Scotland has managed to catapult itself to fourth place in the Commonwealth Games medal table, from 10th in 2010.
It almost doubled its previous Games medal haul from 26 to 53, and increased its share of gold medals from nine to 19.
Was this success simply down to a home crowd? Can Scotland expect to see a similar medal tally at the Gold Coast games in 2018?
The answer to both questions is "no", according to Professor Simon Shibli.
In 2010, the director of the Sport Industry Research Centre at Sheffield Hallam University, predicted that Scotland could expect 17 golds and 44 in total at Glasgow 2014.
However, his assessment was based on there being 244 events contested. The final number actually crept up to 261 and, using the same algorithm, he then made an impressive prediction - 50 medals and 18 golds.
His formula takes into account a nation's past performance, whether it's on a declining or improving trend, and also provides extra points for being the host nation.
At Delhi in 2010, the host nation India also doubled its medal tally on the previous Games. It won 101 medals - up from 50. But in Glasgow this year, India had a reduced tally of 64.
Which sports?
So why did Scotland perform so well on home soil?
The simple answer is Judo, according to Prof Shibli.
The host nation can select some of the sports. Currently, there are 10 core sports and seven selected sports.
Scotland chose Judo and went on to win 13 medals (six gold) out of the 56 medals that were awarded. This accounts for about a quarter of all the medals that Scotland won.
In contrast, India was hit by the absence of archery and tennis, and the reduction in the number of medal events in shooting and wrestling.
In fact, about a third of the medals that India won in Delhi were in events dropped from the Glasgow programme.
Australia only won four medals at the judo. Unsurprisingly, the sport is missing from the 2018 Gold Coast programme.
Instead there will be basketball - Australia's women's team is currently ranked second in the world after the USA.
The host nation can also select the para-sport events, which have increased from six in Manchester 2002 to 22 events in Glasgow.
Scotland won seven para-sport medals. Four of these were in track cycling, which was part of the programme for the first time. It won another in lawn bowls, which hadn't been included since 2002.
Best squad?
However, it's not just the fluid programme of events that affects nations' medal tallies at the Commonwealth Games.
Prof Shibli notes that Australia had a "relatively poor" Games with only 137 medals (49 gold) compared with 177 medals (74 gold) in Delhi.
He says this could "possibly" be due to another element which affects medal haul - whether a nation chooses to put its best athletes forward.
"The Commonwealth games are not necessarily the pinnacle of an athlete's career," he says.
"So you will get nations and sports that will deliberately send a development squad to let them gain experience, rather than the best athletes who have nothing to prove."
"And in the case of Scotland, the host nation will want to do particularly well, so as a result they tend to put forward the best athletes and also invest in the system in the lead-up to the Games."
Spectators' roar
Prof Shibli concedes that a home crowd does benefit athletes, but perhaps not how you might expect.
"The host nation tends to do better at subjectively scored events such as boxing, diving and gymnastics," he says.
"People naively believe that performing in front of a home crowd gets the best out of an athlete.
"It might do, but that is unproven. The effect, which tends to be provable, is that the crowd has an affect on the judge."
"The judge may look more favourably upon a Scottish athlete as a result of the roar of the crowd.
"It's just very fine margins - but that can be the difference between a medal."
Business as usual
So while he believes Scotland won't win as many medals at the Gold Coast in 2018, Prof Shibli says the nation shouldn't lose heart.
"In 2010 and 2006, Scotland was already performing beyond what its population and wealth would otherwise suggest," he says.
"These performances provide pretty decent benchmarks of what 'business as usual' might look like.
"So the elite athlete development system seems to be effective."
However, if Scotland really wants to guarantee success at the Commonwealth games, he says the nation would need to focus on athletics and swimming.
"These two sports in Glasgow accounted for 94 of the medal events - more than a third of the programme," he says.
"These sports will always be there - unlike judo."
Prof Shibli won't be drawn on any predictions for Scotland at the Gold Coast "because the programme hasn't been finalised".
However, as soon that list emerges, bookmakers should be listening to him with interest.
| SCOTLAND | | | | |
| --- | --- | --- | --- | --- |
| | Medal tally | Position in Gold medal table | %age return | Total no. medals won |
| Edinburgh 1986 * | 33 (3 gold, 12 silver, 18 bronze) | 6th | 6.5 | 502 |
| Manchester 2002 | 30 (6g, 8s, 16b) | 10th | 3.3 | 895 |
| Melbourne 2006 | 29 (11g, 7s, 11b) | 6th | 3.9 | 743 |
| Delhi 2010 | 26 (9g, 10s, 7b) | 10th | 3.1 | 828 |
| Glasgow 2014 | 53 (19g, 15s, 19b) | 4th | 6.4 | 824 |
INDIA
Medal tally
Position in Gold medal table
%age return
Total no. medals won
Edinburgh 1986 *
N/A
N/A
N/A
N/A
Manchester 2002
69 (30g, 22s, 17b)
4th
7.7
895
Melbourne 2006
50 (22g, 17s, 11b)
4th
6.7
743
Delhi 2010
101 (38g, 27s, 36b)
2nd
12.2
828
Glasgow 2014
64 (15g, 30s, 19b)
5th
7.7
824