Woman 'threw prosthetic leg at Thomson Airways cabin crew'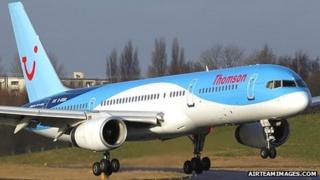 An Edinburgh-bound plane had to be diverted to Gatwick Airport after a woman allegedly became abusive and threw her prosthetic leg at cabin crew.
Sussex police said the 48-year-old from Edinburgh began "swearing blue murder" and throwing food at staff on a Thomson Airways flight.
The captain then diverted the plane, which was flying from Tunisia.
The woman was arrested by police at the North Terminal on Wednesday night
She was taken to Crawley police station where she was questioned by officers on suspicion of threatening behaviour.
'Swearing blue murder'
In a statement, Sussex Police said: "At 10.22pm on Wednesday a 48-year-old unemployed woman from Edinburgh was arrested at the North Terminal, Gatwick Airport, on suspicion of using threatening behaviour while aboard Thompson flight 297 from Tunisia to Edinburgh.
"The flight was diverted into Gatwick after it was alleged the woman had been abusive and had thrown a prosthetic leg and food at cabin crew."
A spokesman added: "She was swearing blue murder, saying she was going to do this and that and the other, so the flight was diverted to Gatwick."
In a statement, Thomson Airways said: "Thomson Airways would like to apologise to passengers for the diversion into Gatwick airport of flight TOM 297 travelling from Enfidha, Tunisia, to Edinburgh on 30 July.
"Unfortunately a passenger became disruptive on board and as a last resort the captain decided to divert the flight to Gatwick.
"Upon landing, the aircraft was met by local police and the passenger was removed for questioning.
"We would like to reassure customers that their safety is our priority at all times.
"Thomson Airways operates a zero-tolerance policy with regards to any disruptive behaviour on board, and incidents of this type are extremely rare."