Aberdeen and Glasgow airports put up for sale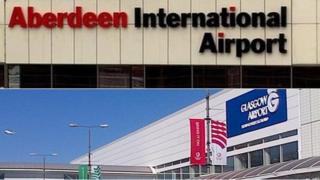 Aberdeen and Glasgow airports have been put up for sale.
Their owner Heathrow Airport Holdings (HAH) is also putting Southampton airport on the market.
HAH says it is hopeful of concluding a sale by the end of the year.
Spanish firm Ferrovial was reported to have made an £800m offer to buy the airports in February.
The company already part-owns Heathrow, the UK's busiest airport.
It holds a 25% stake in HAH, which was previously known as BAA.
A consortium led by Zurich Airport and the investment firm Partners Group, is also believed to have had an offer rejected.