Scottish government backs calls for more women on university boards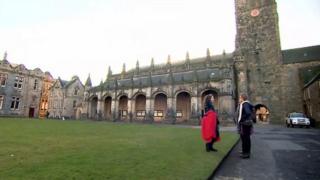 The Scottish government is urging universities and colleges to continue to increase the number of women on their governing bodies.
Education Secretary Mike Russell made the call as he set out the details of the latest funding deal.
But the government played down the likelihood of financial penalties for failing to make progress.
A spokesman said no penalties are planned but institutions must strive for "more balanced representation".
The majority of people currently on the bodies are men.
A new voluntary code of governance for Scottish universities published last year set the aim of increasing the number of women on boards.
The government spokesman added: "Engagement from educational institutions on gender equality at board level has been positive and we would expect this to remain the case going forward.
'Little progress'
"Soon to be published ministerial guidance on college sector appointments will also make clear our expectations for more women on college boards."
Earlier this week the National Union of Students claimed too little progress was being made improving the gender balance.
It said that if the voluntary code did not lead to big enough improvements, the law should be changed to force universities to act.
Vonnie Sandlan, NUS Scotland women's officer, said: "It's incredibly worrying that, despite committing to strengthening the gender balance in their governing bodies, so many universities are still lagging behind.
"This is clear evidence that self-regulation does not seem to be enough to bring about gender equality on the boards that run our universities."
The organisation representing universities - Universities Scotland - insists progress is being made improving the number of women on the governing boards.
It argues that more women have been appointed to boards over the past year and expects the proportion to rise as vacancies come up.