WW1 commemorations at Britain's first military airbase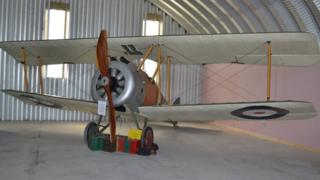 With the centenary of Britain joining World War One approaching, communities around the country are preparing to mark the anniversary in their own way.
Montrose was home to Britain's first operational military airbase set up by the Royal Flying Corps in 1913. A pilot who had been based at the station was the first to land in France in August 1914.
The Montrose Air Station Heritage Centre is running a series of events this weekend to mark their part in the conflict which was supposed to end all wars.
Nowadays it is an industrial estate on the edge Montrose but a hundred years ago the surrounding area would have had planes parked on it, part of the pioneering effort to use aircraft in World War One.
There are still traces of buildings dating from that time, some of the nearby hangars for instance, date from 1913 and are thought to be the oldest in the world.
"The big British weapon at that time was the Grand Fleet, which was in bases up the east coast of Scotland," explains Dan Paton, the curator at the Montrose Air Station Heritage Centre. The station was meant to deter German Zeppelins.
"Essentially they thought aeroplanes might be useful for reconnaissance purposes," he continues "but I have to say many generals in the army were a bit sceptical about their usefulness at all but they soon proved that when they went to war in France. The aircraft became quite indispensable as a means of knowing what the enemy was doing and where he was."
By the standards of the time, the Montrose Air Station was a major base and it had a significant economic effect on the surrounding area. It brought jobs, while men stationed there often looked for accommodation in the town. People came, not just from elsewhere in Britain but from other countries including Australia and Canada.
There were social effects too for the town with many marriages between local women and men from the station. When the Americans were there for three months in 1918 no fewer than 11 marriages took place.
By 1915 Montrose had become a crucial training base. Much of the work that was being done was new and that was reflected in the high number of casualties.
"What you've got to remember was that the business of training was very dangerous," says Mr Paton "it was a new thing after all and as a result casualties were very high and large numbers of men were killed here.
"Some of the men who came from elsewhere in Britain and from Australia and Canada remain here because there's a considerable number of war graves here in Montrose."
The Air Station eventually closed in the 1950s and later the wider site was developed as an industrial estate. The Heritage Centre is keen that the history is remembered and honoured. It relies on volunteers to do its work.
"It's really important to know where you came from," says 16-year-old Fiona who is volunteering at the centre, "because it's the big events like the First World War that shaped how we are now."
Part of this weekend's events will include the families of some of those who were based at Montrose gathering to remember.
Trevor Goodenough says he is "proud" of what his grandfather, Sergeant Herbert Bullock achieved, although he would like to know more about him and his story. Attending the events for him is about showing "respect" for what people did during the war.
From what he does know his grandfather redesigned a fuel tank on one of the planes which enabled it to fly longer distances - important for an emerging role in France.
"During the time he was in the First World War," continues Mr Goodenough "the plane that he was in as a mechanic/co-pilot crash-landed due to being hit by enemy fire, this punctured an oil feed in the engine and he was able to repair this by cutting up his shirt and tying it up, so they managed to take off again under enemy fire."
It is a hundred years ago since No.2 Squadron left Montrose to lead the Royal Flying Corps to war. The first British aircraft to land in France was one of theirs.
Dan Paton of the Heritage Centre is keen that younger generations understand the significance of what followed: "It's our job, it's our vocation if you like to get them to understand what it meant to people at the time and how it has affected the world that they live in today."