Glasgow 2014: How the Games played out on social media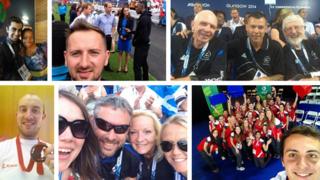 Glasgow 2014 will forever be remembered as the Commonwealth Games that brought Scotland together to welcome the world and show what the country has to offer - far and beyond just sporting events.
Since the night of the Opening Ceremony, when a packed and expectant Celtic Park crowd waited with baited breath to see what the next 11 days of competition would bring, people from every corner have embraced the Games, and nothing has exemplified this more than the explosion of activity on social media.
Every inch of the spectacle has been dissected by those who have been just as invested in the action as the athletes.
Whether it's been tales of success, not quite making the grade, shocks, or the quirky and heart-warming stories in between, opinion after opinion has been just a click away.
But, perhaps more than even the organisers would have hoped, Glasgow 2014 has also inspired people to get involved and show their support in many different ways - few more popular than the #commonwelfie trend that has had famous faces and spectators alike sharing snaps.
We asked people to show us their photos from the goings-on, and cycling royalty Sir Chris Hoy was one of the first on board:
And we also got a feel of the atmosphere from around the venues:
There were even a few medallists in amongst the crop, including some of England's divers:
Few could top this effort from Australian hockey player Jayde Taylor and her team-mate - who saw their tweet go viral when they were unexpectedly photobombed by none other than The Queen:
But Scottish netballer Bethany Sutherland certainly did her best, when she became the envy of many by posing for a photo with the hottest property in athletics, Usain Bolt:
The Jamaican himself had sparked much debate before, and certainly during, the Glasgow showpiece.
It was a "will he? won't he?" saga that seemed to be never-ending, but since confirming that he would in fact be gracing the Hampden track, there has been nobody more sought-after and spoken about.
And, just when it looked like all focus would be on whether he could reach the podium, it was reported that the world's fastest man had slated the event Scotland had waited seven years for.
But amid wall-to-wall criticism, he was quick to dispel the rumours...
And then did his talking the way he knows best...
The sprinter may be a global sensation, but, without doubt, the real heroes of these Games were the competitors who wore the colours of the hosts.
Smashing their medal target, they endeared themselves to one and all and took over Twitter in the process, with #GoScotland one of the most used hashtags.
Gaining support and praise from all corners in every session, their exploits even turned a city landmark Gold...
And Scotland was quick to show its jubilation as the medals rolled in...
Erraid Davies. Chances are, that is a name most people will not have heard of before last week - but now she is a true headliner.
The 13-year-old instantly became the star of the show - and social platforms - when she stormed the SB9 100m breaststroke final and clinched a bronze that sent her country wild with joy.
Top trending on Twitter, the Shetlander captured the imagination in such a way that her achievement will live long in the memory.
She made her mark on Facebook, too…
Erraid was far from the only home-soil squad member to make an impact.
Every major sporting tournament has a name that will not be forgotten, and, this time around, that accolade goes to table tennis' Gavin Rumgay.
He may not have got as far as he would have liked, but he - and his victory celebration that led to #dotheRumgay - certainly left a lasting impression.
Rumgay does, though, have a rival for most entertaining character, and that is South African swimmer Chad Le Clos' dad, Bert.
His enthusiastic support of his son saw him steal a bit of the limelight, and go down a storm…
Add to that the surprise package of the Scottish judoka - who added to the medal tally with a grand total of 13 - and the countless other spectacular performances that kept everyone enthralled, and it has been something relished by everyone.
So, Glasgow 2014 has sparked a social media frenzy like nothing Scotland has seen, and in a way that ensures people will still have something to say about it long after it is over.