Scottish independence: Babcock predicts Clyde job losses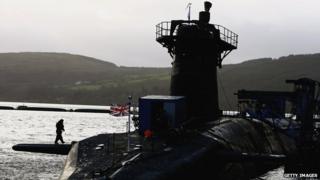 The defence contractor Babcock has warned its Clyde-based workforce that Scottish independence could lead to job losses.
The company believes it is "unlikely" that all existing naval support staff at Faslane and Coulport would be required.
The Scottish government said that independence would "protect" jobs at Faslane.
SNP ministers want the base to become a conventional naval facility
They have said it would become the joint headquarters for all Scottish defence forces.
But they want to remove the Trident nuclear submarine fleet from the Clyde.
Revenues
Babcock, which employs 4,750 people in Scotland, has previously said that independence could lead to additional "risk and uncertainty" for its business.
Its annual report said risks included a long-term reduction in revenues from the Clyde and the inability to win Royal Navy contracts for its Rosyth dockyard.
Babcock shared its concerns with the Rosyth workforce in March and gave a briefing to union representatives on the Clyde earlier this week.
A leaked copy of Babcock's speaking notes for the Clyde meeting have been released by the Better Together campaign.
The document states: "It is unclear whether there would be a continuing role for Babcock should the submarine flotilla be moved and the nuclear infrastructure decommissioned.
"It is unlikely that Clyde as a conventional naval base would require the same numbers of support personnel, particularly when the number of naval personnel will reduce significantly."
It also says that Faslane does not have the docking capacity for many naval vessels and suggests that the Coulport armaments depot could close.
Military bases
The Scottish government said it was committed to protecting all UK military bases inherited at the point of independence.
Speaking to BBC Scotland the Deputy First Minister, Nicola Sturgeon argued that Babcock would have a vibrant future in an independent Scotland.
"Faslane will continue to have a strong future in an independent Scotland, not as a base for nuclear weapons but as a conventional naval base and as the joint Headquarters of the forces of an independent Scotland.
"There will be reconfiguration of the base required, and the Scottish government will obviously sustain and maintain jobs in the transitional period looking towards the longer-term future.
"It stands to reason that supporting a base like Faslane as a conventional base requires significant numbers of people, and our estimates based on the detailed work we've done to prepare the whitepaper say that we would broadly require the same number of jobs."
She added: "Companies will understandably put forward arguments based on what they perceive to be in their business interests, but many of the same companies expressed the same concerns before the Scottish parliament referendum and they proved to be unfounded."
"Contractor companies like Babcock would have opportunities in an independent Scotland, and we look forward to Babcock being operational in Scotland for many years to come."
Union
The Unite union convenor on the Clyde, Derek Torrie said: "Those of us working at Faslane & Coulport are in no doubt that the security of our jobs is best served by remaining in the United Kingdom.
"Any other outcome is a threat to our future employment"
Former Liberal Democrat leader Sir Menzies Campbell also commented on the issue, saying: "If Scotland becomes independent then it cannot expect that the defence contracts that have been placed in Scotland as a result of our membership of the UK will be maintained.
"Of course Babcock's announcement is entirely consistent with what BAE have been saying about the future of shipbuilding on the Clyde."
The Scottish government has placed plans to remove nuclear weapons at the heart of its campaign for independence.
A summary of its blueprint for an independent Scotland, to be sent to every household in the country this week, stresses the cash savings this could make.
The Deputy First Minister said: "Huge sums of money are being wasted on Trident and the new generation of Trident. That public money would be better spent on other public services than on nuclear weapons that people don't want and we don't need."