WW1 commemorative wreath flies from Montrose to Amiens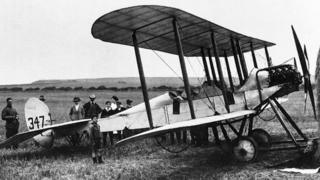 A wreath is to be flown from the UK's first operational military air base to a war memorial in France as part of commemorations marking the centenary of the start of World War One.
The wreath will take to the skies from Montrose Air Station in a replica SE5, similar to the aircraft used by the Royal Flying Corps' II (AC) Squadron.
It will fly to RAF Leuchars before heading to Dover.
The last leg of the wreath's journey, to Amiens, will be in a replica BE2.
It was on 3 August 1914 that the squadron left Montrose to lead the Royal Flying Corps to war.
The first British aircraft to land in France was one of their aircraft, a BE2 piloted by Lt Harvey-Kelly.
The commemorative wreath will head for France following a dedication by the chaplain of RAF Leuchars in the presence of relatives of pilots who served at the base from 1913-1918.
There will also be a private reception to launch Montrose Air Station Heritage Centre's "First in France 1914" project.
Alan Doe, chairman of Montrose Air Station Heritage Centre, said: "People with relatives who were based at Montrose Air Station from 1913-1918 are travelling from across the country to attend this high profile, nationally-significant event.
"To our delight, the grandson of Major Burke, the squadron leader who led Montrose's II (AC) Squadron to war, is one of those who will be attending.
"As well as the departure of the Commemorative Wreath, we have a programme of special events planned for our guests, including a thrilling re-enactment of a First World War dog fight."
The weekend of commemorative events at Montrose has been supported by grants from Angus Council and Museums Galleries Scotland.
It was organised by Montrose Air Station Heritage Centre, in partnership with the Western Front Association and the RAF.
"Montrose Air Station was vital to the air effort in the World War One," said Wing Commander Blythe Crawford of RAF Leuchars.
"World War One marked the dawn of airpower, which provides a key element to every operation we conduct today.
"The impetus for that was the ground-breaking work done by those magnificent men in their flying machines during World War One."