Scottish police officer numbers grow again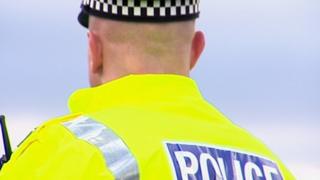 The number of police officers in Scotland has increased slightly to 17,318, official figures have shown.
The figure at the end of March was up by 73 from the previous quarter.
The government said that was an increase of more than 1,000 on when the SNP took power in 2007.
Justice Secretary Kenny MacAskill said the situation was in marked contrast to the position in England and Wales, where police numbers were at their lowest level since 2001.
Armed response
He said: "Recorded crime in Scotland is at an almost 40-year low and these high police officer numbers provide a strong, visible police presence to keep our communities safe.
"I am proud that we have continued to keep our commitment for 1,000 additional officers working across Scotland during every quarter of this administration."
The minister made a statement in the Scottish Parliament following concerns over the number of armed officers patrolling the streets.
Police Scotland said a total of 275 officers, members of the armed response unit, carry weapons when they are on shift.
A spokesperson said if they are not deployed on firearms duty they would help their local division, but would carry their weapons while on patrol.
In his statement, Mr MacAskill insisted to MSPs that police in Scotland would not be routinely armed.
The force issued a detailed breakdown of the number of officers working in each of its 14 divisions.
They range from 2,697 in Greater Glasgow to 369 in Dumfries and Galloway.
But these figures are augmented by officers deployed in each of the three force regions - north, east and west - and those classed as "national resources."
Regional resources include major investigation teams, e-crime, serious and organised crime, armed policing, dogs, and trunk roads policing.
National resources are available to be sent to any part of the country.
They carry out duties in intelligence, human trafficking, rape investigation, air support, the football co-ordination unit, mounted unit, mountain rescue and police divers.
Deputy Chief Constable Rose Fitzpatrick said the Commonwealth Games had shown the benefits of a single police service which allowed a flexibility in deployment of officers.
"Although many officers have contributed to the safety and security operation around the Games, a single policing service has also ensured that local communities have continued to receive community policing support where and when it's needed," she said.
The Scottish Liberal Democrats said the figures showed an 11% increase in national resources which are managed on a centralised basis.
Justice spokesperson Alison McInnes said the police strength figures did not reflect the loss of hundreds of civilian support staff.
She said: "We still don't know the full impact that the loss of civilian staff has had on local policing resources.
"We do know that with an increase in centralised resources, Kenny MacAskill's new police force is first and last a centralised national force. That one-size-serves-all approach is not good news for local communities."