Charity calls for Scottish use of breast cancer drug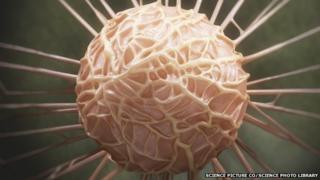 A charity has called for a new breast cancer drug to be made routinely available in Scotland following a proposal not to fund it in England.
Kadcyla raises life expectancy by six months on average for women dying from an aggressive form of breast cancer.
The Scottish Medicines Consortium (SMC) will issue advice on its use in Scotland in October.
The charity Breakthrough Breast Cancer said Scots patients should be given access to the treatment.
In England, the NHS drugs advisory body NICE has proposed that the drug not be made routinely available.
NICE, in its updated draft guidance, has criticised the makers Roche for not setting an affordable price.
The drug, which destroys cancerous cells from within, costs £90,000 per patient but Roche said it had offered a lower - undisclosed - price in recent talks.
The two organisations have been in negotiations since the first draft guidance from NICE rejecting the drug was published in April.
While this latest guidance is only the final draft version, there tends not to be any major changes when the official recommendations are published - normally a few months after this stage.
James Jopling, Breakthrough Breast Cancer's director for Scotland, said Kadcyla was a "brilliant drug", but added that it was expensive.
He said the decision by NICE was a "very disappointing outcome for patients in England".
Mr Jopling added: "Yet there is still hope for patients in Scotland.
"Kadcyla will be one of the first medicines to be assessed here under a new system which places greater emphasis to the voice of patients.
"Having spoken to women, their position is loud and clear - they want this drug approved."
The SMC will discuss Kadcyla at a meeting in September before issuing its advice on 13 October.