Scottish Ambulance Service 'is improving' on infection control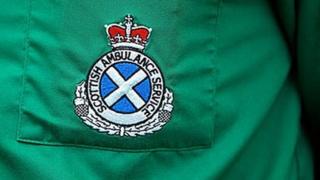 The Scottish Ambulance Service has made improvements in how infection is prevented and controlled across the service, health inspectors have said.
The Healthcare Environment Inspectorate (HEI) highlighted five areas where the service had acted positively following previous inspections.
But three areas - linen management, equipment storage and disinfection practices - were still below standard.
The HEI made announced inspections at 12 ambulance stations in June.
Susan Brimelow, HEI chief inspector, said "This inspection has highlighted a number of areas where the Scottish Ambulance Service has made improvements since our last inspection.
"In particular, we found clearer leadership and responsibilities in place for infection prevention and control across the service.
"We also observed good compliance with national dress code policy and found a comprehensive range of audits in place.
"Overall, the cleanliness of vehicles inspected was satisfactory."
She added: "However, we did identify areas where improvements are required.
"These include linen management, clinical equipment storage arrangements and thermal disinfection practices.
"This inspection resulted in three requirements and three recommendations which we expect the Scottish Ambulance Service to address as a matter of priority."