Drug deaths involving 'legal highs' double in last year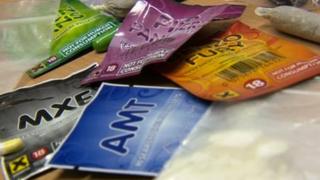 The number of deaths in Scotland involving so-called legal highs more than doubled last year, according to new figures.
There were 113 deaths in 2013 where New Psychoactive Substances (NPS) were present, compared with 47 in 2012.
NPS were implicated in 60 deaths compared with 32 in 2012, but other substances were also implicated in 55.
The number of drug-related deaths dropped by 9% to 526, according to the National Records of Scotland.
There were 32 drug deaths among the under-25s, the lowest since records began in 1996, while just over two-thirds (68%) of deaths were among those aged 35 and over.
Three-quarters of those who died in 2013 were men.
Community Safety Minister Roseanna Cunningham said: "The number of drug deaths dropped by 9% last year and that is to be welcomed.
"The hope is that increases in previous years have now come to an end and numbers are now levelling off.
"However, behind each of these figures is a grieving family and first and foremost we must recognise we have lost 526 people to drug use."
'Legacy of misuse'
She added: "These statistics are a product of a long legacy of drug misuse among older users.
"We are clear that one death is one too many. That's why we are funding the Scottish Drugs Forum to work with older users and why almost 4,000 naloxone kits were issued through our prevention programme to people at risk of overdose in 2012-13, potentially saving more than 350 lives."
Ms Cunningham said the Scottish government was committed to doing everything it could to restrict access to NPS and to educate people about their dangers.
The figures showed that just over nine in 10 deaths were of people who took more than one drug, and perhaps alcohol. Only 9% had only one drug and perhaps alcohol present in the body.
Carole Kelly, chief executive of drugs information charity Crew 2000, warned of the dangers of NPS because of price and lack of information.
She said: "NPS may be cheaper than known illegal drugs and we are aware of people using them across different age ranges and social groups.
"People who haven't used drugs before are at risk if they do not have experience or credible information with which to make informed choices about NPS.
"And people who have previously used other drugs may not be aware of additional risks and consequences of use."