More Ryder Cup match day tickets released for sale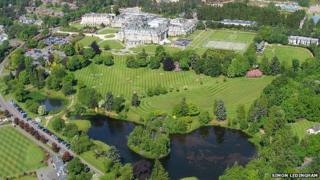 A total of 3,000 Ryder Cup match day tickets have been released for sale to the general public.
They are being made available online on a first-come, first-served basis for play on 26, 27 and 28 September.
The tickets are the final tranche of returns from the event's commercial allocations.
Ryder Cup Europe said the initiative was designed to ensure as many golf fans as possible had an opportunity to attend the event at Gleneagles.
Up to four tickets are available to buy at one time via the official Ryder Cup website.
Anyone wanting to buy a ticket will need to register their photograph online first, a process that can take up to 24 hours.
Photo registrations will be processed in the order they are received.
Ticket prices for the event range from a £10 concession ticket for under-16s on practice days to £145 for the final day's play.
Richard Hills, Europe's Ryder Cup director, said: "It's common for a small number of general admission tickets to return once the final round of commercial allocations are complete.
"We are delighted to be able to release these tickets to the general public - it is great news for the event and will add to the very special atmosphere only the Ryder Cup can produce.
"Tens of thousands of people made the effort to register for Ryder Cup tickets last year, and while many were successful, many others were not.
"Therefore, we wanted to make these tickets available to them as well as to people who perhaps hadn't registered before."
Tourism body VisitScotland said there was still some accommodation available near Ryder Cup Park and Ride locations in Stirling, Perth and Balado and in other areas within easy travelling distance of Gleneagles.
VisitScotland chairman Mike Cantlay said: "Spectators are coming from 75 countries worldwide to attend the 2014 Ryder Cup and as such accommodation pick-up has been strong.
"However, there is still some accommodation available.
"Given the central location of Gleneagles in Scotland and the excellent transport links, the 2014 Ryder Cup lends itself perfectly to those even wishing to stay a little further afield and combine a trip to the event with a golfing holiday in one of Scotland's many terrific golfing regions."