Iain Banks' novel Stonemouth to be dramatised by the BBC for UK audience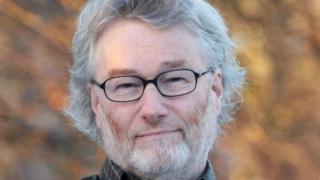 Acclaimed author Iain Banks' novel Stonemouth is to be dramatised by BBC Scotland and Slate North for UK audiences.
It will be the first TV adaptation of Banks' work since his death in 2013.
The two-part drama is a rite of passage tale set in the fictional Aberdeenshire village of Stonemouth.
Christopher Aird, BBC Scotland's Head of Drama, said: "Iain Banks was such an important writer, I am thrilled we are bringing Stonemouth to the screen."
The 60-minute episodes are being produced for both BBC One Scotland and BBC Two.
Delving into love, loyalty and vengeance, Stonemouth focuses on the character of Stewart Gilmour, who returns to the village for his best friend's funeral.
Run out of town a year earlier by his girlfriend's family, Stewart is forced to face up to his own past whilst uncovering the sinister truth behind his friend's apparent suicide.
Christopher Aird, who is also Executive Producer on Stonemouth, said: "We have some very exciting ideas for the adaptation and I am sure we will be able to attract some of the very best Scottish acting talent to the drama."
'Engaging world'
Andrea Calderwood, Executive Producer for Slate North, added: "Having worked with Iain on the much-loved BBC Scotland adaptation of The Crow Road, I felt that in Stonemouth Iain had created a similarly engaging world.
"We had been very much looking forward to collaborating again on this one, and working with writer David Kane.
"David has really captured the unique spirit of Iain's writing in his adaptation, and with his and director Charles Martin's award-winning talent, I'm sure Iain would have enjoyed seeing the great characters and story of Stonemouth brought to the screen."
Written by David Kane (The Field of Blood, Prime Suspect) and directed by Charles Martin (Run, Wallander and A&E's US remake of The Returned), BBC's TV adaptation of Stonemouth will film in locations around Scotland from October 2014.
Stonemouth is a co-commission by Ewan Angus, BBC Scotland's Head of Commissioning, and Ben Stephenson, Controller of BBC Drama Commissioning.
The commission is part of BBC Scotland's commitment to produce distinctive and reflective Scottish output and complements productions including Shetland (BBC One), Sunset Song, Katie Morag (CBeebies), Bob Servant (BBC Four), Murder (BBC Two) and new landmark series, Highlands (BBC One).