People's Panel: 'What Salmond and Darling must do to win our vote'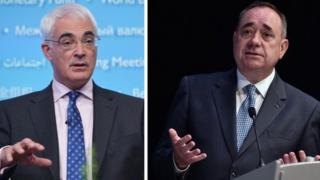 A televised debate between First Minister Alex Salmond and Alistair Darling, the leader of the Better Together campaign, takes place later.
They will meet face-to-face live on the BBC.
Ahead of the debate we asked five members of our People's Panel what the two politicians needed to do to win them over.
Voters in Scotland go to the polls on Thursday, 18 September, when they will be asked the "Yes/No" question: "Should Scotland be an independent country?"
Naomi Stirrat 21, is a drama student and aspiring actress living in Glasgow
"I continue to be an undecided voter. So, to convince me to vote 'Yes', the pro-independence side would have to give definite answers on things like currency.
"As a homeowner I need to be able to make an informed decision, knowing where my mortgage will stand. I also want to be reassured that arts funding won't be cut.
"So many of the 'Yes' supporters are voting to boost Scottish arts, but when a government struggles - and a newly independent Scotland will inevitably struggle with cutting costs etc - the first thing to go is arts and culture.
"I also worry whether Scottish universities would still attract such a high level of research funding? Some academics are concerned the funding would no longer be available."
"To convince me to vote 'No', the pro-union side would have to be up front about further devolution of powers in the event of a 'No' vote.
"If they could convince me that Scotland would still benefit from the union whilst looking after her own purse, I'd be more likely to vote 'No'.
"But I want the 'No' side to explain how our public services would be protected from the poor reputation of the NHS in England.
"They need to set out how staying in the UK would result in us receiving a better service.
"I want to see them come up with some kind of more democratic system of government. The north of England are in the same position as us, where we are under a government we did not vote for. How will they prevent this from happening in the future?"
Connor McSharry 22, is a trainee property manager from Glasgow
"For a long time I was undecided as I thought there were a lot of good reasons to vote both 'Yes' and 'No'. I have only made my decision in the last few weeks.
"In the end my decision was based not on Anglophobia or Scottish nationalism, but on my belief that independence would bring benefit to Scotland.
"I don't feel represented by Westminster, and I just want to see Scotland run by a government which is more directly accountable to the people.
"I'm also strongly against there being nuclear weapons in Scotland and so I want to see the end of Trident.
"I don't think there is much the 'No' side could really say to change my mind.
"In a way I don't think these debates between the party leaders really help people like me make a decision.
"I haven't really been impressed by either Alex Salmond or Alistair Darling at any point in the campaign.
"It's the issues and the changes that could occur post-independence that have persuaded me.
"I'm trying not to be close-minded but I don't really think anything Mr Darling says in the debate could sway me."
Lynda Forde 37, work as a business process analyst which takes her all over the country
"I remain an undecided voter and so in order for the 'Yes' to win me over they would have to convince me that an independent Scotland would be financially sustainable.
"I'm concerned that VAT rates would be increased to support a newly independent Scotland.
"I also want to know exactly how the England-Scotland border will operate.
"There are other questions - will the currency remain unchanged and will I require ID to cross the border? I need to know for personal reasons, as I spend 75% of my working life in England.
"It's important to be reassured that free further education remains.
"My 16-year-old daughter has done very well in her exams and wants to go on to university, but I couldn't afford to pay the fees that they have in the rest of the UK.
"To convince me to vote 'No', Better Together would have to promise real change to the UK's immigration policy.
"I would like to see a similar system to Australia, where you must have a skill and money in the bank.
"And I also want confirmation that the NHS in England will not be privatised - I spend at least two nights a week in England."
Hal Osler, 44, was born in England but now works in Edinburgh
"Back in May we had a referendum debate for our community council with 'Yes' and 'No' politicians.
"It was that event that made me decide I will probably vote 'No'.
"The 'Yes' side's answer to every question was 'don't worry, we'll deal with that afterwards'. They didn't put forward any positive economic reason to leave the union.
"My lean towards 'No' is purely based on my economic assessment of Scotland and the way the SNP have chosen to spend the taxes in Scotland so far.
"For example one of their campaign issues is 'to get 100,000 Scots out of poverty', but surely after nine years in power they should have made a dent in this.
"In my mind's eye as an adopted Scot, what we could lose far outways what we could gain at this present moment in time.
"It also concerns me that with the election next year we could be left in a situation where one of the parties that was against independence is in power and is left picking up the pieces.
"If I thought Alex Salmond actually wanted independence for the benefit of all the Scottish people I could be convinced. At the minute I don't believe that is the case.
"And I do not have any faith that the SNP have the economic sense to make it a success.
"Having said that I am not opposed to revisiting the question in the future
"I will be watching the debate with interest and an open mind. I'll be looking for well-reasoned answers from Alex Salmond and Alistair Darling.
"Until polling day actually comes around I could in theory change my mind."
Ian Kinghorn 68, is a retired electronics engineer and lives in Edinburgh.
"I'm still undecided about the vote. So, from both the 'Yes' and 'No' sides I would like to be given firm assurances on what will happen based on factual analysis.
"Any analysis of this topic is necessarily based on predictions and forecasts, in other words, guesswork.
"If either of the campaigns could give me firm answers, then they'd probably get my vote.
"One area of concern is to do with Scotland's future economic prospects.
"As a retired professional on a comfortable company pension, it is unlikely to make much difference to me whichever way the vote goes.
"However, I am worried about my family and their future, and my major concern is for the economic and employment prospects for my grandchildren and beyond."