Three men detained in Police Scotland crackdown on 'legal highs'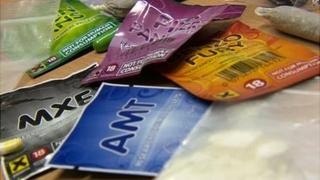 Police Scotland has led a nationwide crackdown on the sale of "legal highs".
Three people were detained and more than 100 products were seized in raids on shops and other business premises.
They have been sent for forensic analysis as police suspect they could contain harmful substances or controlled drugs.
The raids came at the start of a campaign mounted by police along with trading standards officers, health boards and drugs agencies.
A total of 58 shops and other business premises, from Peterhead in the north to Ayr in the south, were searched.
Police say "legal highs" - officially called new psychoactive substances (NPS) - can in fact contain chemicals which can be extremely harmful.
There were 113 deaths in 2013 in Scotland where NPS were present, compared with 47 in 2012.
Raids took place in Ayr, Glasgow, Musselburgh, Dundee, Arbroath, Aberdeen Peterhead and Edinburgh.
In Musselburgh, three men - aged 25, 31 and 40 - were detained at a shop and charged with culpable and reckless conduct.
In Edinburgh more than 3,000 sachets of substances were seized from three shops raided in the Leith Walk, Newington and Wester Hailes areas.
In addition, representatives from the fire service and city council carried out visits to a further eight premises across the capital to provide guidance on legislation and licensing issues relating to NPS.
The raids were part of a campaign aimed at educating young people about the dangers surrounding the use of NPS.
Det Ch Insp Garry Mitchell of Police Scotland's specialist crime division said: "My message is simple - don't take these substances.
"By taking these you are risking your life. Legal doesn't mean safe; you can never be sure what you are getting or how it will affect you.
"NPS can contain harmful or toxic chemicals. Taking NPS is dangerous in itself - the risks are increased if taken with other substances and or alcohol."
Police said if NPS discovered in the raided business premises are found to contain controlled drugs, the owners will be charged under the Misuse of Drugs Act.
The operation is being backed by a two-week nationwide marketing campaign to help raise awareness of the dangers of taking NPS.
Synthetic chemicals
It is aimed at young people aged 11 to 18, as well as their key influencers such as parents and teachers, and also targets young professionals aged 25 to 35 years.
Dr Richard Stevenson, consultant in Emergency Medicine with NHS Greater Glasgow and Clyde, said: "The dangers of these products should not be underestimated.
"It is difficult for clinicians to treat cases of unknown intoxication caused by these products as most are synthetic chemicals that are not easily identifiable with routine body fluid testing.
"There is no known antidote and there is no evidence base in terms of the type and severity of symptoms."
He added that in addition to the physical health risks associated with taking these chemicals, doctors were also now starting to see patients with increased mental illness caused by "legal highs".