Body found in Loch Lomond search at Rowardennan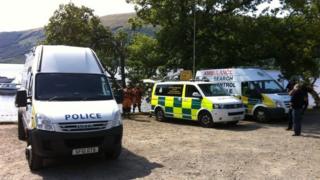 A body has been recovered by rescue teams after a man fell from a boat on Loch Lomond while fishing.
Crews were called to Rowardennan on the east side of the loch at about 20:05 on Friday after reports that a man in his 60s had gone into the water.
A spokesman said the body was found by divers from the marine unit of Police Scotland, near Rowerdennan Pier.
It was brought to shore on a boat at about 13:40.
Insp Adrian Wright said: "Police divers have sadly recovered a body from the water and we will now follow the process of confirming the identify the body.
"Police would like to thank the assistance provided from both the public and other agencies, including the National Park, Loch Lomond Rescue Boats, Loch Lomond Mountain Rescue and the Scottish Fire and Rescue Service, in their search activities during this tragic incident."
The Great Scottish Swim, which was taking place at Loch Lomond this weekend, went ahead as planned.