Police bid to identify Scots jihadists in Iraq and Syria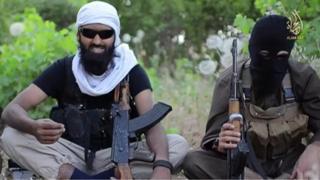 Police have said they are working to identify people with links to Scotland fighting in Syria and Iraq.
Counter-terrorism officers said it would be "foolish" to discount the fact that some of those travelling to the countries have connections to Scotland.
It follows reports of Scots jihadists posting on social media sites.
Earlier this year, Abdul Rakib Amin, from Aberdeen, appeared in a recruitment video for Islamic militant group Isis.
In an interview with the Sunday Mail newspaper, Magnus Ranstorp, former director of the centre for the study of terrorism and political violence at the University of St Andrews, said: "The exact numbers are obviously impossible to quantify. I would estimate there are around 30 Scots over there."
Police Scotland said it was working as part of the UK's counter-terrorism network to "minimise the threat from terrorism and extremism".
'Lives in danger'
Det Ch Supt John Cuddihy, of the force's organised crime and counter terrorism team, said: "Of those British people who have gone to Syria and Iraq to fight it would be foolish to discount the fact that some may have links to Scotland, either as citizens, short-term visitors, through family ties or using Scotland as a point of departure.
"That is why there have been significant efforts here in Scotland to put in place strong security arrangements, along with good information and advice, which hopefully discourages those that are clearly putting their lives in danger.
"We are also working tirelessly to identify people with links to Scotland who may have gone out there to fight and to make sure that we deal with the implications, if indeed they do return."
He added: "We maintain close liaison with national and international security partners to enhance our response, however, countering the terrorist threat cannot be the responsibility of the police and security partners alone; it's the collective effort that ensures Scottish communities continue to remain strong and cohesive and that our people recognise the dangers of travelling to places like Syria and Iraq at this time."
Mr Cuddihy thanked communities in Scotland for their support and urged anyone with concerns about someone planning to travel to Syria or Iraq to contact police.
It is understood Abdul Rakib Amin attended Sunnybank Primary and St Machar Academy in Aberdeen.
In the recruitment video for Isis, now known as Islamic State (IS), which emerged in June, he is seen urging western Muslims to join the fighting.
Meanwhile, UK authorities are seeking to identify the jihadist with an English accent who appeared in footage of the killing of US journalist James Foley earlier this month.