Warning over home-made play dough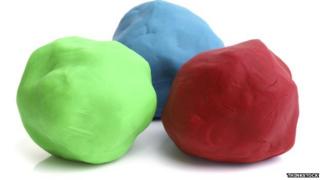 Parents have been warned that home-made play dough can contain enough salt to poison children and pets.
The warning comes from the UK's National Poisons Information Service.
It said that there had been no fatalities in children but there were reports of pets being poisoned.
Recipes for home-made play dough can easily be found on the internet. They usually recommend mixing one part salt, two parts flour and one part water, then adding colouring.
One gram of such a dough would contain around 250 mg of salt.
The advice from the National Poisons Information Service is contrary to that found on many internet forums where parents are reassured if their child has eaten play-dough, and told not to worry because it is 'non-toxic'.
The National Poisons Information Service said commercially available play dough preparations also contained salt, but not in such high concentrations. It said children should always be watched carefully while playing with any play dough.
Prof Simon Thomas, director of the National Poisons Information Service in Newcastle, said: "A child weighing around 10kg would need to eat about 1g of pure salt to cause concern, that equates to around 4g of home-made play dough.
"It would taste very salty and unpleasant, which is probably why no cases have been reported so far but some children have conditions which make them more likely to pick things up and eat them. If they were eating handfuls of play dough, there is a risk."
He added: "If a child has eaten large quantities of play dough and doesn't appear to be well then you should get them checked over. Common symptoms of significant salt ingestion are nausea, vomiting, irritability, headaches and for the child to be thirsty and tired."