Ryder Cup to be celebrated with special postmark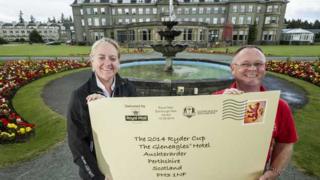 A special postmark will appear on mail next month to mark the Ryder Cup golf tournament being held at Gleneagles.
The prestigious competition between teams from Europe and the United States will take place at the Perthshire course at the end of next month.
The postmark will be printed on all stamped and franked mail across the UK sent from 15 to 29 September.
It will say 2014 Ryder Cup, Gleneagles Scotland 2014.
The Ryder Cup, which is held every two years, has become one of the world's most famous sporting events and attracts a global audience.
Royal Mail operations director Rob Jenson said: "It'll be a very special moment to see this iconic sporting event coming back to Scotland after so long and we're pleased to mark the occasion in this unique way."
Mike Cantlay, chairman of tourism body VisitScotland, said: "There is no doubt that Scotland, the home of golf, is embracing the 2014 Ryder Cup and the teams and spectators alike are assured of a warm welcome at Gleneagles.
"This tremendous initiative by Royal Mail will help generate further excitement and anticipation across Scotland in the run-up to this unmissable sporting event."
Royal Mail's postmarks are reserved for special occasions and are used to recognise significant events, historical anniversaries or support of charity.
The Commonwealth Games held in Glasgow was celebrated with a special postmark which was carried on all stamped and franked mail across the UK from 14 July - 3 August.