Singing Kettle music group announces farewell tour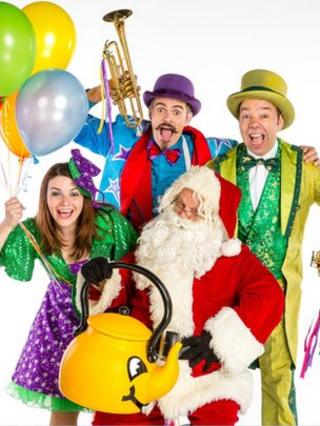 Children's entertainers The Singing Kettle have announced they are to stop performing from early next year.
Husband and wife team Artie Trezise and Cilla Fisher, who founded the group in 1982, retired in 2013.
However, the shows continued with the two other long-term cast members Gary Coupland and Kevin Macleod and new recruit Anya Scott-Rodgers.
The group has now said their Christmas tour will be their last, with a final show in Aberdeen in February.
The first Singing Kettle performance took place in Dalkeith Library in 1982.
The shows feature children's songs and family fun with a distinct Scottish flavour.
The group started small, touring playgroups and schools, but grew to be a huge box office draw performing in theatres and music halls across the UK and further afield.
The Singing Kettle has sold more tickets at the SECC in Glasgow than any other act.
Managing director Artie said: "My wife Cilla Fisher and I retired from performing with the company two years ago and we've now decided to close up shop.
"We've both enjoyed having a bit more time to ourselves since we stepped out the limelight and now we can enjoy not having the pressure of running the business."
The current cast perform about 200 shows a year and said they were now looking to the future and working on a new children's show.
Macleod said: "It's been a real privilege to be part of The Singing Kettle over the years and though we are sad this chapter is ending, a new one is just around the corner."
Over the years, there have been 6,500 live shows and the signature Singing Kettle rhyme: "Spout, handle, lid of metal, what's inside the Singing Kettle?" has been heard at least 40,000 times.
---
Singing Kettle served unique blend
by BBC Scotland's Laura Pettigrew
The Singing Kettle came to my school. Not the greatest ever claim to fame but I do remember actually being a slightly star-struck primary 7 (I should have known better) when Cilla, Artie and Gary jigged into the gym hall and entertained us with songs about the Ozone layer, pollution and animals becoming extinct - they were topical as well as traditional!
---
The group also released CDs, several DVDs and made television series' with BBC Scotland and Scottish Television.
Fisher said: "It's become a tradition in Scotland and many children and their families will miss the show.
"We've had so many wonderful times over the years and met so many lovely people.
"It's so nice to have created something that's brought such happiness, not just to our audiences, but to us too."
The Singing Kettle's music man, Coupland, who has been involved from the start, added: "The show leaves a rich legacy, built on the brilliant idea Cilla and Artie came up with 32 years ago."