Singing Kettle: Serving up unique blend of Scottish family fun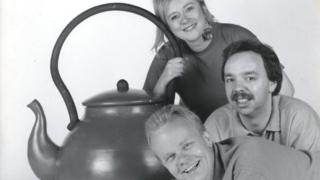 They are hanging up their kettle after more than three decades. Scots children's entertainers The Singing Kettle are calling it a day after this year's Christmas tour.
But what was it about their shows that had children, parents and grandparents donning silly costumes, belting out favourites like "Yae cannae shove your Granny off a bus" and dancing in the aisles at theatres across the country?
---
The Singing Kettle came to my school. Not the greatest ever claim to fame but I do remember actually being a slightly star-struck primary 7 (I should have known better) when Cilla, Artie and Gary jigged into the gym hall and entertained us with songs about the Ozone layer, pollution and animals becoming extinct - they were topical as well as traditional!
Twenty years later I found myself at a heaving Braehead in Glasgow on a Saturday before Christmas, leading my excited two year-old and his big cousin through the throngs of shoppers, dressed in my pyjamas and slippers. We were headed to the Singing Kettle's Pyjama Party show and we were taking the "dress up" advice very seriously indeed.
And that transition from being a child who enjoyed the show to an adult determined my kids would experience it too, is one of the things that has aided the Singing Kettle's longevity.
The group prided itself on "playing to the children and grandchildren of the show's original audiences".
The act began life in Dalkeith Library in 1982 when award-winning folk singers, and husband and wife, Artie Trezise and Cilla Fisher - who hailed from the village of Kingskettle in Fife - decided to turn their hand to children's entertainment.
It started as a "little show" touring playgroups and schools (like mine). Behind it was a very basic idea - get the children singing along.
"It was to get the kids all round you and get everyone involved," explained Cilla.
Theatre director, Andy Arnold, who was one of the first to book the Singing Kettle, said the simplicity of the show was its real charm.
"There was an almost deliberate amateurism about it," he said. "I still remember it now. I can see Artie in the corner playing his guitar. The place was full of families, it was jammed with really young kids and they were getting people to sing along."
And the songs being sung added to the appeal - a mix of old Scots favourites, like the Jeeley Piece song and Three Craws Sat Upon a Wa', with newly written material featuring catchy choruses and easy-to-remember rhymes.
"If we were doing the same songs - like singing 'Yae cannae shove your Granny off a bus' all the time - I wouldn't do it," said group's "music man" Gary Coupland. "But we have to invent new stuff all the time."
So from humble beginnings, the Singing Kettle's success really began to boil.
They moved out of libraries and schools into theatres, music halls and venues including the SECC in Glasgow where they sold more tickets than any other act.
They made television series for BBC Scotland and Scottish Television.
In 32 years of performing there have been more than 6,500 live shows and the group has played to audiences totalling in excess of five million people.
Their signature rhyme (don't pretend you don't know it): "Spout, handle, lid of metal, what's inside the Singing Kettle" has been heard at least 40,000 times.
The Singing Kettle's appeal was always strongest amongst Scottish audiences but they also took the show to the US, Oman, Hong Kong and even did a special performance for the Jordanian royal family, arranged by a Scots nanny for Princess Salma's birthday.
And the chances are King Abdullah and Queen Rania may have invested in a Singing Kettle CD or DVD for their little ones. Clever merchandising played a big part in growing the brand.
Parents up and down the country will admit to having a DVD or two in the house and a CD in the car. (Our CD jumps and sticks from over-use and our DVD is covered in scratches and toddler paw prints.)
But perhaps the biggest draw of the Singing Kettle was that whether you were watching the live show or TV programme, or singing along in the car, it was all about having fun and being a bit silly.
Kevin Macleod, who was the group's tour manager before taking a starring role, previously said: "They pay me to act like a seven-year-old. It does not get much better than that."
Founding members Artie and Cilla retired in 2013 and the group held auditions selecting Anya Scott-Rodgers to join the troupe.
That current line-up will take their Christmas show on tour throughout November and December - but it will be their last - with a final ever performance in Aberdeen in February.
It will be sad day for many children, parents, grannies and grandads.
After all, who could resist the chance to dress in your "jammies" and sing "Ma, ma will you buy me a banana?" at the top of your voice? Not me that's for sure.