Scottish independence: Moderator calls for respect on both sides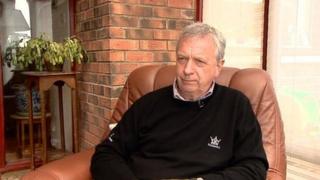 The Moderator of the General Assembly of the Church of Scotland has urged both sides in the referendum debate to treat each other with respect.
The Rt Reverend John Chalmers said he was "disturbed" by increased aggression as the 18 September vote approached.
Mr Chalmers chairs a debate between Finance Secretary John Swinney and Advocate General Lord Wallace of Tankerness QC in Glasgow on Wednesday.
He said: "I fear something ugly may be beginning to permeate the debate."
Mr Swinney will outline the case for independence while Lord Wallace will back a "No" vote in the debate at St George's Tron Church.
Smirking 'highly unlikely'
Mr Chalmers said: "I have faith that, despite divergent views, most Scots are behaving courteously during the run-up to the referendum. However, it has become clear that some are not.
"I am delighted to be hosting a dialogue which is highly unlikely to feature aggression or smirking. The participants will be asked to listen to each other with respect.
"Like most, I am repelled by the name-calling and rancour we have seen in recent weeks. We need to behave as though we are paving the way for working together whatever the outcome."
The event, which is being streamed online, will run in conjunction with 10 other local debates at Church of Scotland venues across the country.