Tiree and Skye homes shortlisted for UK design award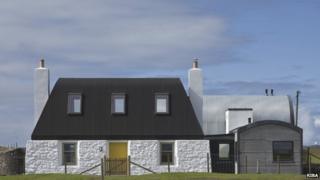 A refurbished black house on Tiree and a home cut into the cliffside on Skye have been shortlisted for a prestigious design award.
The homes are named in the Royal Institute of British Architects' shortlist for this year's RIBA Manser Medal.
Other finalists include a futuristic extension of a Georgian villa in London and a modern castle in Gower, Wales.
The winner will be announced on 16 October at the RIBA in London.
RIBA president Stephen Hodder said, in each case, the architects "have added real value to the homeowner's happiness and wellbeing".
He added: The originality, ingenuity and innovation on show in this shortlist should be an inspiration for anyone planning to build or make improvements to their own home.
"I encourage the UK's volume house builders to look at the shortlisted schemes - we all deserve to live in homes that comfort and delight us."
The full list of finalists is: Cliff House, Isle of Skye (Dualchas Architects); The Kench, Hampshire, (MELOY Architects); Lens House, north London (Alison Brooks Architects); Luker House, Barnes, south west London (Jamie Fobert Architects); Stormy Castle, Gower, Wales (Loyn & Co Architects) and House No 7, Isle of Tiree (Denizen Works).