Are you excited or anxious ahead of the referendum?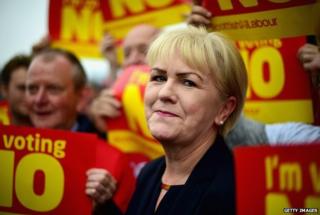 Consider this referendum. Yes, yes, I know, you do little else. But reflect upon the emotions stirred by said plebiscite.
Are you enthralled or enervated? Are you intrigued or underwhelmed? Perhaps above all, are you enthused by the prospect of independence - or apprehensive? Are you excited or anxious?
Incidentally, I encountered both emotions from a pair of thoughtful women observing the media scrum surrounding Labour's Johann Lamont in Govan today.
They worked locally and had just wandered over, as they freely confessed, "to have a wee nosey."
They told me they found the referendum campaign fascinating. Then they talked of their anxieties. In their case, pensions and immigration. They wanted one increased and one reduced.
Guess which one.
They also longed for a single savant who could give them straightforward answers as to what would happen in the future. Precise, numerical answers.
'Doubt and anxiety'
To be fair, they readily agreed to my suggestion that such an endeavour was impossible in this troubled world.
"Still, no' long to go now", one opined as we parted. Indeed. So where are we heading?
Supporters of the Union are, understandably, emphasising doubt and anxiety, tending to express this as a claimed absence of answers to questions posed.
Independence campaigners say they are beginning to find that people on the doorsteps are, more and more, volunteering the verdict "exciting" when they think about the prospect on offer.
That, consequently, they see the alternative as flat and dull.
Said campaigners speculate that perhaps this reflects a sense of momentum in their direction. That may be decisive - or, of course, it may be illusory and transient.
You can bet that the next round of polls will be scanned with particular acuity.
Today Labour's focus was upon the Nationalists, arguing that substantial numbers of folk voted for the SNP in 2011 but will not carry that through into a vote for independence.
It was a direct counter to the SNP appeal to Labour supporters to back a "Yes" vote.
When I interviewed Nicola Sturgeon, she argued that the vast majority of SNP voters would opt for "Yes" - but also that it was a mistake to single out the SNP.
Scotland's deficit
This contest, she said, was not about a single party - but about the empowerment of the Scottish people through independence.
Ms Sturgeon also insisted, contrary to Labour arguments, that welfare would be affordable.
She disputed figures advanced by the Institute for Fiscal Studies as to Scotland's deficit - and argued that independence would provide Scotland with the tools to grow the economy.
I challenged her repeatedly on tax. Why offer a cut in corporation tax while declining to specify anything on income tax?
In particular, why not match Labour's offer to restore the 50p upper rate of income tax?
Because, said Ms Sturgeon, the corporation tax plan was a long-term vehicle to attract investment, boost jobs - and thus enhance the potential for redistributive policies.
Right now, in the current climate, she said a 50p tax rate might appeal but she would not prefigure the budget of an independent Scottish government, taking office in 2016.
She had some interesting comments on the question of whether there might be another referendum in the near future. She would not absolutely rule one out.
That was, she argued, in the hands of the people. She could not forestall the decisions that might be taken by a future administration at Holyrood.
In practice, however, she felt an early further poll was decidedly unlikely. In practice, this was the opportunity.
She and Alex Salmond had described the contest as being an event which tended to occur "once in a generation".
So. Excited or anxious?