Former Rangers director Imran Ahmad wins court bid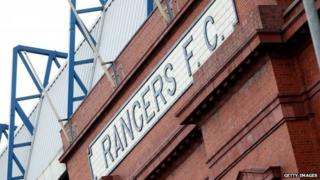 Former Rangers commercial director Imran Ahmad has succeeded in his bid to have £620,000 of club assets frozen.
Lawyers acting for Mr Ahmad claim he was owed a £500,000 bonus for the time he spent working at the Ibrox club.
At the Court of Session in Edinburgh, the judge found in favour of Mr Ahmad that some assets should be ring-fenced until the case completed.
Rangers QC Alan Summers asked for leave to appeal saying there had been an "error of law".
Leave to appeal was opposed by Mr Ahmad's QC and a decision on whether it will be allowed will be made on Tuesday morning.
Mr Ahmad, who had twice lost court bids to have Rangers' assets ring-fenced, claims he is owed £500,000 for negotiating deals and wants another £120,000 to cover legal expenses.
Advocate Kenny McBrearty QC told Lord Stewart that Mr Ahmad was concerned about the current state of the club's finances and fears Rangers would not be in a position to pay up if the court eventually ruled in his favour.
He told the court Rangers had sold 23,000 season tickets this season, down 15,000 on last season.
Mr McBrearty said the Rangers board's latest plans for a share issue may only raise £3.6m and cover part of the club's obligations.
He added: "There is a significant hole in the club's finances for the forthcoming season."
Working capital
After making the arrestment order, judge Lord Stewart said he had a great deal of sympathy with Rangers fans.
He said: "This does not mean the club will be insolvent."
In his statement to the judge before the ruling, Rangers QC Alan Summers said the company was not verging on insolvency but was not in rude health.
He said it was "trading out of difficulties".
Mr Summers said funds were available if the finding went against Rangers FC, which currently has £1.2m in the bank.
However, Mr Ahmad's QC said a "pattern of diminishing working capital is evident".
He said: "There is no concrete evidence that there is a saviour (for Rangers)."
A statement to the London Stock Exchange from Rangers International Football Club plc said: "This is a provisional procedural measure and the fact that this procedural ruling is in Mr Ahmad's favour it is in not an indication that the court accepts there is any merit in his claim.
"The court has not yet considered the merits of Mr Ahmad's claim. Mr Ahmad's claim is being robustly defended.
"The case proceeds to a full hearing on its merits commencing 11 November 2014. If the defence of this claim is successful the funds arrested will be released."