Scottish independence: World media suggests 'domino effect'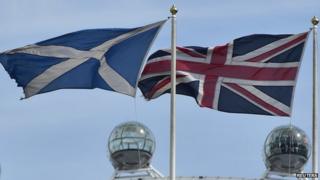 In countries where the Scottish referendum has attracted significant comment this week, most pundits take the prospect of independence seriously.
They also agree that, for better or worse, an independent Scotland would galvanise independence movements elsewhere in Europe.
'Irreparable blow'
Radio France Internationale's London correspondent Muriel Delacroix warns that all the main political leaders in Westminster "have a lot to lose. Some believe that if there is a 'yes' vote, David Cameron will have no choice but to resign. He will go down in history as the man who lost the Union. And the Labour leader would lose an electoral base vital for his survival in Westminster, as would the Liberal Democrats."
Italian commentator Marco Niada plays down the economic effects of any Scottish secession in the financial paper Il Sole-24 Ore, but says that on a political level "for the English it would be an irreparable blow and a profound crisis in national identity".
In Germany's centre-left daily Sueddeutsche Zeitung, Christian Zaschke accuses Westminster of focusing on the financial impact instead of highlighting the "advantages of a union that has existed for 300 years... the political establishment in London has been shocked into realising that it has to present its arguments in a completely different way: positive, empathetic, emotional. It is quite possible that it is already too late."
The Barcelona daily La Vanguardia draws parallels with the independence campaign in Catalonia itself: "All you need to do is look at Britain in recent days... to see that there's nothing strange about the situation in Catalonia. Far from being seen as a strange or bizarre anomaly - it should be seen in the same context. That is the reality, and you must never turn your back on reality."
Hungary's economic news website Portfolio warns of a domino effect in Europe. "Europe will in all likelihood be infected by Scottish independence, if the Scottish independence referendum due to be held next Thursday is successful and the divorce really does happen. Catalonia, the Basque Country, Flanders and even Venice are keeping a close eye on developments, which may once and for all justify their own aspirations of autonomy."
'End of British Empire'
Russian media take the prospect of secession seriously. Rossiya 1 TV warns there is little time left "to save the kingdom". Rossiyskaya Gazeta daily says Scottish independence would make David Cameron's position untenable. "Cameron will not only lose his post, but will also have the unsavoury reputation of the man who split the country."
Yegor Kholmogorov writes in Izvestiya that "Scotland's secession, if it takes place, will probably deal the coup de grace to the British Empire", with Northern Ireland following suit.
Ukrainian weekly Novoye Vremya thinks a smooth separation would encourage other independence movements. "If the English and the Scots can build a normal relationship while living in different countries, other restless parts of Europe will definitely follow in Edinburgh's footsteps."
Kostyantyn Vasylkevych in the Ukrainian weekly 2000 says Scotland can't lose. "Regardless of the outcome, the Scots have already won. If the United Kingdom remains united, Scotland will probably get additional authority from the central government."
'Second-rate Britain'
The Chinese state media focus on negative aspects of Scottish independence, given the country's own concerns over secession in Taiwan and Tibet.
Global Times says the UK will become a "second-rate" country if Scotland secedes. The Beijing Daily accuses the UK of "double standards" because it upholds the "principle of unity within its country while encouraging separatism abroad".
'Promises and threats'
Iranian conservative media do not back the "Yes" campaign, but say British policy shows signs of panic.
Fars News Agency writes: "As the probability of Scotland breaking away from the UK grows, London officials who staunchly oppose the break-up have adopted parallel policies to convince the 'yes' campaign to change its mind: promises and threats."
Resalat newspaper says: "Cameron is even prepared to grant concessions to the people of Scotland - concessions that were earlier considered a red line for British politicians and officials."
BBC Monitoring reports and analyses news from TV, radio, web and print media around the world. For more reports from BBC Monitoring, click here. You can follow BBC Monitoring on Twitter and Facebook