Holyrood prepares for world media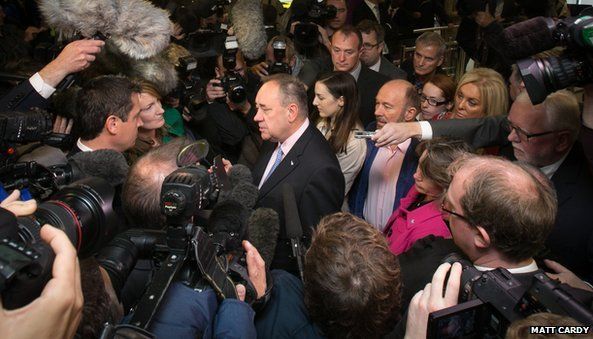 With just two days to go until the referendum, the world's media is turning its gaze on Scotland.
At the Scottish Parliament in Edinburgh, preparations are underway to host some 500 journalists and news crews from around the globe.
A broadcast village with flood lights and scaffolding two storeys high has been erected in the grounds around Holyrood. From here, reporters will broadcast live as events unfold.
Among them will be the BBC, Sky News, CNN - and agencies including the European Broadcasting Union, which provides pictures to news outlets in 56 countries in Europe and beyond.
Inside the parliament, there is space for more than a hundred print journalists.
The referendum debate has been making headlines across Europe for some time - especially in regions with their own independence movements, such as Catalonia in Spain.
But the recent narrowing of polls has seen interest peak further afield.
Dai Koyama is a television producer with the Japanese broadcaster NHK. He will be travelling to Scotland with a team of reporters to cover the result.
"Until now, the referendum hasn't been big news in Japan," he said.
"As soon as the poll came out last week - and people realised this really might happen - that changed. If it is a yes vote, it'll be huge news."
"I think the main response from audiences in Japan is curiosity about why this is happening.
"There's perhaps a certain amount of bewilderment, because people there would be unlikely to have heard anything about any Scots being unhappy with the union.
"Our focus is to try to talk to people on the ground and explain why this is happening."
Jessica Mutch, Europe Correspondent for New Zealand's national broadcaster TVNZ, says she has been surprised by the level of interest there.
"It'll be the middle of the night for us, and it's actually also the eve of our general election, so that does dampen how big the story is a little - but there's no doubt this is the most important story in Europe for us at the moment."
"I think New Zealanders are particularly interested in watching because of the debate about New Zealand becoming a republic.
"We also have a lot of New Zealanders in Scotland and vice versa, so questions of immigration, visas and passports also really interest people.
"And of course the economic side of things - the potential impact on the banks and currency."
David Leask, Chief Reporter at The Herald newspaper, has spent the last two years looking at how referendum debate has been viewed internationally.
"There are obvious places like Spain, where you would expect interest. There's detail and a lot of analysis in the Spanish media, much of it superior to coverage in the UK.
"You find that in many places, the media view what's happening in Scotland through the prism of what's happening in their own country.
"There is a lot of interest in the former Soviet Union for example, especially in Crimea and northern Ukraine, in power of a referendum.
"Some of that is propaganda: people saying our referendum is like your referendum, which of course it isn't. But there is also genuine interest."
He adds that it will be fascinating to watch the international media once the votes have been counted, for early indications of how world leaders will respond.
"Up until now, most leaders have been reluctant to say anything. It will be fascinating to see what they say: France, Germany and the United States in particular.
"In the event of a yes vote, the Scottish Government will have to start negotiations with the rest of the UK, but also with world powers.
"In my view, the Americans were quite slow to realise the significance of this event. They didn't take it seriously, which from a Scottish perspective was quite odd.
"It's only in the last two months that they started taking notice.
"In Russia too, I think some of the coverage has been quite sneering and condescending, but recently tone that has changed."
James Chau, a journalist and presenter, and special contributor to China's main state broadcaster CCTV, says global players will be keenly watching the outcome.
"In China that focus will likely be on the impact a 'Yes' vote would have on the makeup of the United Kingdom both as a trading partner and as a political entity," he said.
"Will the Scots continue using the pound? Will they be a part of NATO?
"And with China leveraging the UK as one of its key entry points to Europe, the other question that will be asked in Beijing is what will this mean for the European Union?
"So, very intricate issues, at different levels and each for unique and meaningful reasons."