Scottish referendum: Abuse directed at Andy Murray 'vile'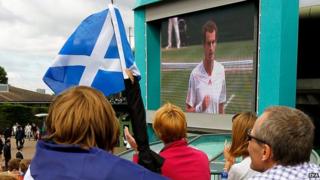 Online abuse directed at tennis star Andy Murray after he declared support for Scottish independence has been described as "vile" by Police Scotland.
Murray tweeted on Thursday morning that "no campaign negativity" had "totally swayed" his view on the issue.
Some users of the site sent him hate messages, with one referring to the Dunblane massacre in 1996.
Murray was a pupil at Dunblane Primary school when gunman Thomas Hamilton shot 16 children and their teacher.
Murray's tweet, just hours before polls opened, read: "Huge day for Scotland today! no campaign negativity last few days totally swayed my view on it. excited to see the outcome. lets do this!"
The BBC did not report his comments while polls were open because of strict rules governing broadcasters during elections.
Assistant Chief Constable Bernard Higgins said: "People who put abuse such as this online should be utterly ashamed of themselves for making such vile, disgusting and distasteful comments.
"We are monitoring social media and where appropriate will take action against those involved.
"Social media is important for many people but it must be used responsibly. There is no place for personal abuse of any kind on it."
The former Wimbledon winner has previously dodged revealing his opinion on independence.
In June he did criticise Scottish First Minister Alex Salmond for waving the country's flag at the tournament last year.
In August, he told the Guardian he did not think it looked likely the result would be a "Yes", but added that his preference would be to represent Scotland if the country became independent.
"If Scotland became independent, then I imagine I would be playing for Scotland," he told the newspaper.
Other celebrities who have received online abuse for revealing their opinions on the referendum include J K Rowling and David Bowie, who both backed a "No" vote.