Glasgow City Council says care homes demand 'excessive' fees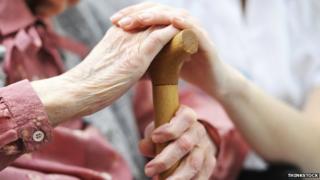 Glasgow City Council has accused private care homes of demanding "excessive" fees.
It said "concerted resistance" by the sector had forced it to abandon plans to introduce a new contract to limit the cost of providing care home beds.
Scottish Care, which represents independent care home providers, dismissed the claims as "nonsense".
It claimed the council was prepared to pay more for residents in its own council-run homes.
On Wednesday, the council's health and social care committee will be told that the proposed new contract will have to be abandoned, in a move which could increase the costs of care and have implications for other councils across Scotland.
Capped increase
In April, Glasgow City Council invited private homes to bid to become "approved providers" of care home places.
In order to be approved, owners had to sign a contract which capped any increase in fees at 1% a year.
However, so few care homes bid for the contract that the council faced running out of care home places within 6 months.
Councillor Malcolm Cunning, executive member for social care at Glasgow City Council, said: "The private care home sector has done everything possible to thwart and undermine the council's efforts to introduce a new way of purchasing care home places for vulnerable older people.
"Many providers have either turned their back on the process or demanded fees that were excessive, unrealistic and completely unsustainable."
He added: "Others have taken the council to court, just as they threatened they would do even before we launched the new tendering process.
"In the face of such concerted resistance there is no chance the new tendering process will deliver best value for the taxpayer."
Living wage
Scottish Care said the sector was facing cost pressures of up to 12%. It said the council was prepared to pay more for residents in its own care homes.
Chief executive Ranald Mair said: "Their assertion that this is about corporate profit is nonsense.
"Some of the care homes affected are run by charities and churches. Glasgow is committed to paying its own care workers the living wage but not committed to paying other people enough to pay the living wage.
"All we asked for was an annual review of what Glasgow would pay."
He added: "What we really want is proper discussion about the future needs of the city, not how we can get care on the cheap."
The council will now try to reduce costs by caring for more people in their own homes and investing in measures to prevent people having to be admitted into residential care.
The process is being closely watched by other councils. At the moment councils pay care homes a nationally agreed rate, but this is due to expire next April.
Glasgow City Council's health and social care committee will be told that "representations will be made to the Scottish government" on the question of how councils can sign competitive contracts "given the continuing power that the care home sector appears prepared to wield to determine its own terms of business".
A Scottish government spokeswoman said: "Earlier this year, the Scottish government and Cosla published the Residential Care Task Force report, which recommended a new, collaborative approach to commissioning to oversee quality and capacity of provision in the residential care market.
"We are developing guidance on strategic commissioning ahead of the new integration authorities having a requirement to develop strategic plans. This will issue at the end of the year."