Scottish crime prevention scheme extended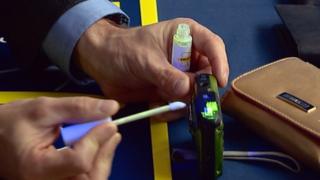 A crime prevention initiative involving the invisible marking of personal property is being extended to communities across Scotland.
Police Scotland said a pilot project using the Smart Water solution in The Grange in Edinburgh reduced crime by more than half.
The same approach is to be used in parts of Aberdeen, East Lothian, Stirlingshire and Greater Glasgow.
Housebreaking in the Edinburgh pilot area fell by 53%.
Properties in The Grange and Greenbank areas were marked with a solution containing a unique code which shows up under ultra-violet light.
Signs were placed in the community warning that the technology was in use.
Similar success expected
The scheme will now be extended to cover 4,500 homes in four areas in Pollokshields and Rutherglen in the west, Killearn and Blanefield in Stirlingshire, Torry in Aberdeen and Longniddry and Gullane in East Lothian.
The Duddingston area of Edinburgh has also been identified for inclusion in the next phase.
Supt Matt Richards said: "The considerable fall in domestic housebreaking during the pilot in The Grange allows us to extend the initiative further and we expect to see similar successes in all the participating areas.
"Thieves and those selling on stolen goods will not know what property is marked, and in some instances products will be deployed that are directly transferable to offenders.
"These can only be seen by officers equipped with specialist lighting devices."