A record two million Scots are offered a free flu immunisation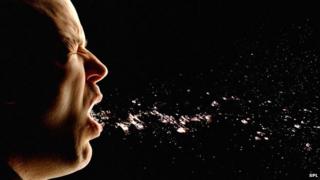 A record two million Scots will be offered the free flu vaccine as the national seasonal flu immunisation campaign gets under way.
People with underlying health conditions, pregnant women and those aged 65 and over are encouraged to get the vaccine.
Children aged between two and 11 are being offered a nasal spray vaccine.
Those eligible for free vaccinations should contact their GP's surgery.
The programme was launched in Edinburgh by Dr Nicola Steedman, the Scottish government's senior medical officer.
She said: "Flu is much worse than the common cold - it's an illness that can cause serious health complications for those at risk.
"Even if you feel fit and healthy, if you have an underlying health condition, are 65 or over, or are pregnant then flu can hit you really hard.
"By taking up the free flu vaccine you can ensure you and your family are getting the best protection from the virus."
'Serious impact'
The vaccine takes 10-14 days to become effective, so people are urged to make appointments as soon as possible. People should receive a new dose of the vaccine, even if they were vaccinated last year.
The campaign launch was attended by Helen Slicer, 52, from South Queensferry, who has received the flu vaccine along with her granddaughter.
She said: "I have rheumatoid arthritis and I'm on immunosuppressant drugs so although I feel healthy, I know that catching flu could have a really serious impact on my health.
"I always make sure that I receive the flu vaccine to stay fit and well over winter. I visit my GP as soon as possible, before the weather turns colder.
"I think it's fantastic that my grandchild will also be protected from flu. I know that children are two to three times more likely to be ill with the virus than adults so it's good to be assured that those I love aren't going to get sick too."