Human trafficking: 55 victims identified in Scotland last year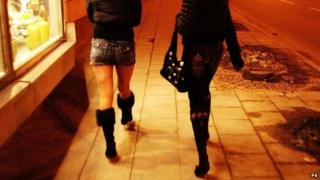 Fifty five potential victims of human trafficking were identified in Scotland last year, according to a report.
Almost a third (30%) of them experienced sexual exploitation followed by labour exploitation (14%) and criminal exploitation (9%).
Romania was the most common country of origin, with nine cases in Scotland.
The National Crime Agency (NCA) said victims came from 18 countries including Poland, Slovakia, Thailand, Vietnam, Ghana and Nigeria.
This year is the first time the UK figures have been broken down regionally.
The NCA's United Kingdom Human Trafficking Centre (UKHTC) estimates that 2,744 people, including 602 children, were potential victims of trafficking for exploitation across the UK in 2013.
That figure represented an increase of 22% on the previous year.
'Disturbing crime'
Liam Vernon, head of the UKHTC, said: "Human trafficking for the purposes of exploitation is an insidious and complex crime, and much of the exploitation is hidden from view.
"The National Crime Agency is committed to continually disrupting what is a vicious and criminal trade in human misery, which exploits the most vulnerable people, both here and abroad, for financial gain.
"Victims are being forced to work in private houses and in hospitality, farming, manufacturing and construction industries. In many cases, threats and violence are used to ensure compliance.
"The NCA will continue to work closely with a range of partners to help eradicate this disturbing crime."
The report found that Romania was the most prevalent country of origin for potential victims of trafficking in the UK for the third consecutive year. More than half of them were exploited for sex.
In March 2014, Justice Secretary Kenny MacAskill announced that the Scottish government plans to create a dedicated Human Trafficking Bill for Scotland which will make Scotland a "hostile environment for human traffickers".
It will build on the work done by Labour MSP Jenny Marra who had proposed her own bill.