Number of shotguns owned in Scotland at record high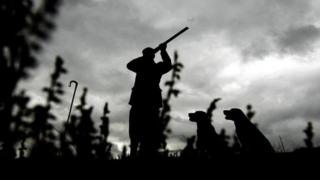 The number of shotguns, firearms dealers and items held on firearms certificates in Scotland have reached record highs, official figures showed.
Firearms dealers have increased by nearly a third in a decade.
Shotgun ownership has also risen to 142,142 an increase of 10% in the last decade.
But Scotland's chief statistician said the rise is "artificial" due to the inclusion of "sound moderators" or silencers.
There were 142,142 shotguns held in Scotland at the end of March, a rise of 219 since last year and a 10% increase in the last decade.
Firearms dealers have gone up to 358, eight more than last year.
The number of items held on firearms certificates has risen to a record high of 91,863 - 44% in the last decade and 7,505 in the last year.
The figures include include 44,267 rifles, 87 under lever and 13 bolt action carbine weapons, 195 muzzleloader rifles and 482 muzzleloader handguns, 251 air rifles and 107 air handguns.
There were also 805 handguns including shot pistols, trophies of war and single shot humane killers, used in animal slaughter.
'Artificial' increase
However, Scotland's chief statistician explained the rise by saying that 7,100 - the vast majority - of the increase can be attributed to sound moderators being included for the first time.
Silencers, designed to suppress noise and flash, are not firearms in themselves - but they are subject to certification and are therefore included in the count of items held on firearm certificates.
Only Strathclyde and Fife legacy forces initially included them in their certificate figures, but the move to the single police force has led to standardised recording in all regions. This means that firearm certificate statistics show a significant rise.
There were 26,101 firearm certificates on issue at the end of March 2014, a slight increase from the end of 2013 but lower than the figure in 2005.
A certificate permits the owner to hold more than one firearm, meaning there are now more guns concentrated in fewer hands.