Where now for independence supporters?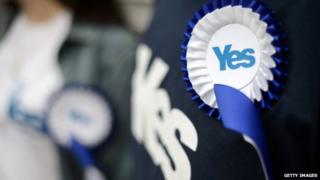 On 19 September, hundreds of thousands of Scots woke up disappointed after the country voted to reject independence. Many had devoted months and years of their lives to the "Yes" cause. How did it feel to be on the losing side? And where do they go from here?
In the days before Scotland voted in the referendum, the country was alive with political activity. In streets in the major cities, "Yes" and "No" campaigners gathered to rally their supporters and get their message across.
Among supporters of Scottish independence, a vibrant grassroots campaign galvanised energy and encouraged many who had never been involved in politics before to throw their weight behind the push for a "Yes" vote.
On social media, in workplaces and on the streets there was one thing on their minds in the run-up to 18 September. This had come to dominate not only the political sphere, but for many the personal too.
On 19 September, the story was quite different. The bustling streets of Glasgow, filled with "Yes" supporters for the previous week, returned to normal.
Parts of social media where "Yes" campaigners had been so vocal were eerily quiet, albeit temporarily. In George Square, which had become the epicentre of spontaneous outpourings of nationalism sentiment, only a few stragglers remained.
"I found it pretty hard to get up in the morning," says Graeme Sneddon, a 23-year-old student from Glasgow. "It was devastating."
Mr Sneddon was one of the activists that became involved during the campaign for independence.
He joined the Scottish National Party (SNP) on the day David Cameron and Alex Salmond signed the historic Edinburgh agreement, and became actively involved with Generation Yes - the youth coalition in support of independence.
"I think Nicola Sturgeon laid the charge down to activists early in the campaign, saying: 'don't wake up on the 19th September wishing you'd done more'," he adds.
'Devastated'
Natalie McGarry, from the Women for Independence group, paints a similar picture. "Working a whole lifetime for something and then it come to a shuddering halt - or a temporary standstill, as I prefer to think about it - it was devastating," she says. "Because something you feel is very right, other people have rejected."
Many, like Mr Sneddon and Ms McGarry, speak openly how disappointed they were. "Devastated", "gutted" and "despondent" are words that featured in conversations with "Yes" campaigners in the days after the vote.
Others, although disappointed by the outcome, say they had managed their expectations over the long term.
Adam Ramsay, 29, moved back to Scotland for the referendum having worked south of the border.
Mr Ramsay, who writes for political magazine openDemocracy, says he was always prepared for the fact that "No" could well be victorious. "I never really expected to win," he says.
But rather than disappear into a well of disappointment, campaigners are now getting ready for their next battle.
For some, that means continuing to push for independence. For others, it means fighting on some of the issues that came to the fore during the independence debate.
And for others still, it means joining a political party. There will doubtless be examples of people doing all three.
Main motivations
"The fight began on the 19th, either way," says Alys Mumford, a charity director from Edinburgh. Although political and a member of the Green party, she only became involved with the "Yes" campaign in the 12 months before the referendum.
It was issues that drove her to get involved - "a means to an end" as she puts it. Those issues continue to dominate her political thoughts.
"People would be quite open and say what has come of this campaign. Issues including the NHS and the bedroom tax were the main motivations on which people voted," she says. "It's about remembering those issues."
Since the referendum, there has been a significant spike in the membership of the parties that campaigned in favour of independence. Most markedly, the Scottish National Party has seen its membership more than treble in the last month. It now stands at more than 80,000.
"The referendum unleashed a new spirit of democratic engagement and participation amongst the people of Scotland," SNP Business Convener Derek Mackay MSP says. "These people simply won't accept the same old politics as usual from Westminster."
The Scottish Green Party has also seen a big rise in its membership - it has more than quadrupled from 1,700 on referendum day to more than 7,120.
Adam Ramsay, a member of the Green Party, thinks next year's general election will provide a focal point for "Yes" campaigners who want to stay involved in politics. More powers for the Scottish parliament could be a key uniting issue.
"A lot of people will throw themselves into the general election," he says. "If these party members can organise properly, we could see 25 SNP MPs and even a green MP in Scotland."
Councillor Maggie Chapman, co-convenor of the Scottish Greens, admitted the referendum result was "disappointing". But says people are still going to campaign for the "transformational change" that many thought the referendum would bring.
"Thousands of people are joining political parties including the Greens, finding new campaigns to get involved with, locally, nationally or globally, and continuing the hope that the 'Yes' campaign brought to so many of us," she adds.
Others have raised the prospect of electoral pacts between pro-independence parties. According to the Sunday Herald newspaper, three nationalist MSPs have raised the prospect of a Yes Alliance at the general election next year.
As well as that spike in membership for pro-independence parties, the movements that built up around Yes Scotland are continuing to organise events and campaign.
In George Square last week, about 6,000 people showed up to support the Hope Over Fear campaign, fronted by former MSP Tommy Sheridan. "The powerless realised they have power, we ain't going back into the box," he told the BBC.
Women for Independence, Natalie McGarry's group, planned a conference for 400 people earlier this month in Perth. It attracted 1,000 people.
"We wanted to be very clear that regardless of what the result was, we were committed to ensuring that women's voices were heard in any future constitutional debate", Ms McGarry says. The group is now working on its submission to the Smith Commission.
Radical Independence is hosting its own conference at Glasgow's SECC at the start of November, with 7,800 saying on Facebook that they plan to turn up.
And National Collective, a group of artists supporting an independent Scotland, has made clear that it intends to keep its movement going.
As one of their members, Declan Walsh, wrote recently: "I voted Yes because I saw a greater chance of achieving social justice and peace in an independent Scotland. The No vote might shift the goalposts but the goal is still the same."
Despite the initial disappointment of the referendum result, there seems little prospect that the movement that built up around the vote is about to disappear.
"The genie is now out of the bottle and those 1.6m who voted for independence on 18th September are not going to suddenly go, 'oh gosh, I'm just going to go back to my sofa'," says Graeme Sneddon. "These people are going to stay."