Creative Scotland launches three-year film strategy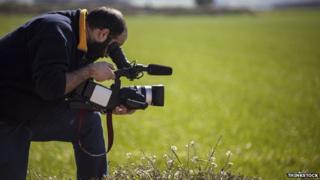 Creative Scotland has set out its priorities for the film sector over the next three years.
The Film Strategy details how the body will work with film makers and public partners as part of its "Unlocking Potential, Embracing Ambition" plan.
Creative Scotland said it aimed to make Scotland home to a "vibrant, culturally diverse and competitive film sector".
The government arts body acknowledges that commercial film makers need incentives to come to Scotland.
Its report also says independent productions need subsidies and that the current average of six feature films made each a year is not enough.
More than 1,000 leading artists and organisations were asked for their input on the main 10-year scheme.
The strategy has been developed in consultation with a wide range of individuals and organisations.
They include people working in film and moving image education, further and higher education, film production, distribution, exhibition and audience development.
Its key priorities include:
The establishment of a sustainable film studio
Increased incentives for film and television production which match, or better, other territories
Greater support for writers and script development
Talent and skills development across the entire film value chain
Support for Scotland's production community through sourcing increased funding
Greater emphasis on film and moving image education with clearer routes from education into industry
Development of real professional opportunities and sustainable careers across the screen sector.
Natalie Usher, director of film and media at Creative Scotland, said it was hoped the strategy would "cement Scotland's position as a key destination for international productions".
She added: "Scotland will be a nation that celebrates the importance of every aspect of its film culture.
"The strategy focuses on the five key areas of film education; talent and skills development; film development and production; inward investment and co-productions; and distribution, exhibition and audiences.
"Our ambition is to generate the conditions necessary to position the film sector at the heart of Scotland's economic and cultural life.
"We will concentrate our efforts on the priorities outlined in the strategy over the next three years so that Scotland is better equipped to compete on an equal footing with other countries."