Unions lead Glasgow rally for Challenge Poverty Week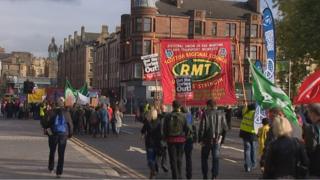 Trades unionists and anti-poverty campaigners have led a rally in Glasgow's George Square as the culmination of Challenge Poverty Week.
Organisers said the event was "at the heart of the battle against austerity and tackling inequality".
They called on campaigners to join forces for "a just Scotland" - irrespective of their views on the outcome of the independence referendum.
Police estimated that about 3,500 people attended the event.
The Scottish Trades Union Congress (STUC), which organised the demonstration, called for action on a living wage, claiming that pay has fallen in real terms since 2008.
Rallies also took place in Belfast and London.
STUC general secretary Grahame Smith said: "The referendum campaign showed the appetite that exists in Scotland for tackling poverty, for fairer wages and against austerity.
"As the debate over future powers for the Scottish Parliament continues, we must not lose sight of the practical solutions to combating poverty - fair pay and working conditions, a living wage, decent housing and combating fuel poverty.
"It is only right that we should continue to explore how the Scottish Parliament can best be empowered to promote social justice, but it is equally important that we act now."
Peter Kelly, director of the Poverty Alliance, said he believed the week's events indicated "the strength of purpose and enormous potential in Scotland for getting the policies right to tackle poverty".
He added: "The march and rally is a fitting culmination to a week in which we have highlighted that more than 800,000 people in Scotland live in low income households.
"In a rich country like ours, this is unnecessary and unacceptable."