Number of weapons found in Scottish prisons doubles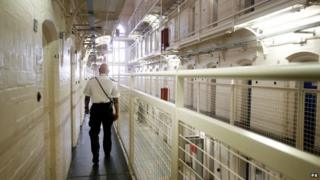 The number of weapons confiscated in Scottish prisons has almost doubled in a year, new figures show.
There were 323 weapons confiscated in prisons in 2013, up 85% on the 175 confiscated in 2012.
There has also been a 15% rise in seizures of suspected drugs, according to Scottish Prison Service figures obtained by the Liberal Democrats.
The Scottish Prison Service said it had made considerable investment to tackle contraband so more was being detected.
The figures show there were 833 suspected drug seizures, up from 725 in 2012, while alcohol seizures remained steady at 81.
Seizures of mobile phones dropped from 347 to 301.
A total of 1,538 articles of contraband were confiscated last year, up from 1,328 in 2012.
Liberal Democrat justice spokeswoman Alison McInnes said: "The fact that more weapons and more drugs are being taken out of prisons is welcome.
"But there are serious questions over how these items found their way into cells in the first place."
'Hugely challenging'
She added: "It is hard to see how inmates can commit themselves to rehabilitation programmes if they are living under the threat of violence.
"Similarly, it will be hugely challenging to help inmates overcome addiction if drugs and alcohol are freely available.
"These stark figures underline the scale of the challenge that our prison service staff are facing.
"The justice secretary needs to ensure that prison officers are getting all the support they need to help keep inmates safe as they serve their time."
Scottish Prison Service spokesman Tom Fox said:" We have made considerable investments in a range of technologies to tackle the introduction of contraband materials into our prisons.
"These include scanners, mobile phone detection equipment, drug dogs, enhanced front-of-house security and intelligence-led searching.
"It is therefore not surprising that we are seeing more contraband detected. We have been working very hard to address this issue."