What does the carrier bag charge mean for Scotland?
By Alicia Queiro
BBC Scotland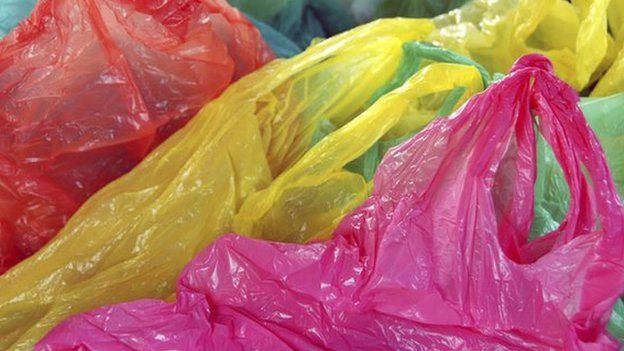 Legislation has come into force that requires all retailers in Scotland to charge a minimum of 5p for each new single-use carrier bag given out to customers.
But what are the reasons behind the charge, how will retailers will be affected, where will the money go and exactly which bags will customers be paying for?
Why has the charge been introduced?
Scotland currently works its way through more than 800 million bags every year - that's more bags per head than England, Wales or Northern Ireland.
Plastic bags blowing in the wind are a depressingly familiar sight - and one with environmental repercussions, because they can take up to hundreds of years to decompose. They often end up in water courses and are particularly damaging if they get into the marine environment.
Wales and Northern Ireland have already successfully introduced carrier bag charges, lowering their usage by 75% and 80% respectively. Scotland is next, and England will enforce a similar charge next year.
The charge has been introduced to encourage shoppers to reuse bags - and where possible, get into the habit of using "bags for life". From now on, Scots will have to remember to bring bags with them, even on that impromptu trip to the supermarket.
What do the new rules mean for consumers?
The crucial point is that not only plastic bags are included in the new rules. Customers will also be required to pay for paper bags, as well as bags made from some plant-based materials.
The legislation applies to all retailers, not just those selling food. Online outlets selling or delivering a product into Scotland are also required to charge for single-use bags.
Most notably, any single-use carrier bag used only to contain unpackaged foods for human or animal consumption are excluded from the charge.
This means the paper bags in greengrocers' and the plastic fruit and vegetable bags in supermarkets are still free, except if you use them for anything other than naked food.
Small bags, like the ones used to package greetings cards and sweets, are always free, as are the paper bags that pharmacists use to dispense medicines.
Pet shop owners may be interested to know that bags used to transport unpackaged animal food and live aquatic creatures are also excluded.
All retailers are required to charge a minimum of 5p for every single-use carrier bag they hand out - but they can charge more if they choose.
It is also up to individual businesses to decide what to do with the revenue. The government is gently encouraging them to donate the profits to good causes, "particularly ones that benefit the environment".
Zero Waste Scotland have signed up 160 retailers to their "Carrier Bag Commitment", meaning that they have agreed to donate the proceeds to good causes, and report on how many bags they have sold and how they've used the money.
Marks and Spencer, McDonald's, The Co-Operative Group and Superdry are among those who have committed.
Related Internet Links
The BBC is not responsible for the content of external sites.