Fall in deaths and injuries on Scottish roads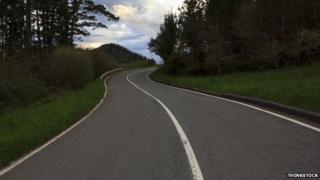 The number of people killed and injured on Scotland's roads fell by 10% last year, according to official statistics.
With 11,498 road casualties reported to police in 2013, this was the lowest level since records began.
The figures released by Transport Scotland showed an increase in recorded fatalities for car drivers, cyclists and motorcyclists.
However the number of fatalities across all modes of transport fell by 3% to 172.
The casualty total for pedestrians was down 12%, motorcycle casualties were down 11%, and there was a 3% fall in cyclist casualties.
The injuries sustained by casualties were also less severe, with the number of serious injuries falling by 16% to 1,672, and the number of people slightly injured down 9% to 9,654.
The number of fatal accidents are on track to meet Scotland's road safety targets.
On target
The Scottish Road Safety Framework, launched in June 2009, set out specific targets for reducing the number of casualties on Scotland's roads by 2020.
They included a 40% reduction in the number of people killed in road traffic accidents, and a 50% reduction in the number of children killed.
Compared with the numbers recorded during the period 2004-2008 - the starting point chosen for the targets - the 2013 figures have already more than met the target, with the number of children killed over the last three years down by 60%.
The number of overall fatalities during 2013 also passed the 40% reduction target by 1%.
The incident rate of serious injuries among adults and children remains short of the target level.
The framework sought a 55% reduction in the number of people seriously injured, and a 65% reduction in the number of children seriously injured by 2020.
The current reductions stand at 36% and 56% respectively, compared to the 2004-2008 starting point.
Personal tragedy
Commenting on the figures Ch Supt Iain Murray, head of road policing, said: "Today's figures are encouraging and show that the partnership approach to casualty reduction across Scotland continues to make a difference.
"In the main, it is heartening to see such significant reductions in statistics, but it is important to recognise the personal tragedy that lies behind the numbers.
"There is still a lot of work to be done.
"Our communities continue to raise road safety and speeding as issues of concern and reducing road casualties and fatalities remains one of Police Scotland's top policing priorities."