Why Scotland is the last word in dictionaries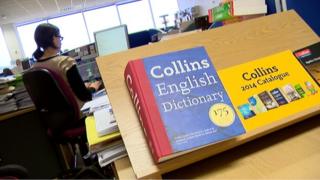 Are you sitting comfortably? Perhaps taking a selfie while wearing a onesie? These are just two of the 50,000 words added to the latest edition of the Collins English dictionary, which can trace its Glasgow roots back almost 200 years.
Millworker William Collins began his business printing sermons and hymn books in 1819, but he soon moved into dictionaries and atlases as well as printing the bible.
The company he formed went on become a global publisher, branching out from religion and education into literature for the masses, but it always retained its Glasgow roots.
The company is currently part of the multi-national Harper Collins group but the dictionary is still compiled in Scotland, in an office in the Glasgow suburb of Bishopbriggs.
Harper Collins archivist Dawn Sinclair says William Collins was essentially a teacher.
She says: "He was interested in the dissemination of knowledge to the masses. He had his own private school and started Sunday schools across Glasgow.
"He very much saw himself as an educator."
Publisher Elaine Higgleton says: "Scotland has a very proud tradition and heritage of publishing dictionaries.
"There were four dictionary publishers in the 19th century - Thomas Nelson, Blackie, William and Robert Chambers and Collins."
Ms Higgleton says: "The impetus for publishing dictionaries in English in Scotland seems to have come from the Enlightenment and is also linked to the growth of empire.
"Scottish businessmen, Scottish educationalists and members of the Scottish church at the time saw themselves as having a wider role in the empire.
"They also saw themselves as North British rather than Scottish.
"It was very important for them as they went out into the empire to do business, to push education and to do missionary work, that they were speaking a form of English that was widely understood.
"That meant the Queen's English rather than the Scottish form of English.
"I think that is why Scotland has been responsible for so many English dictionaries."
Ms Higgleton says that "pronouncing dictionaries" became popular in the 1840s because people were looking for a "pure" form of the language.
She says: "We would not say "pure" now but at the time, in the mid-19th century people, were aiming to speak a form of English that could be widely understood."
Ms Sinclair says the introduction of new steam-driven printing presses in the 1850s meant producing dictionaries became cheaper and they were more widely available.
The company expanded into countries such as India and Australia but Scotland was always important to the business.
Ms Sinclair says: "Scotland is essential for us. We went down to London very early on but were always a very Glasgow and London-based company. Glasgow was always a hub.
"The core of the business with education, dictionaries and maps was here. Sadly the printing is not here any longer."
Ms Higgleton says the printed version of the dictionary remains popular despite it and others being published online for free.
There are certain people such as crossword puzzlers and scrabble players who like to have a physical copy of the dictionary as well as new markets emerging in places such as India where internet coverage is not keeping up with demand to learn English.
The team of lexicographers in Bishopbriggs, where the Collins operation moved in the 1970s, uses the "Collins corpus", a database of more than 4.5bn words and definitions which is updated daily, to analyse the level and spread of usage a word has.
Ms Higgleton says: "They are looking at how widely a word is being used. Has it jumped from a technical use to wider acceptance in newspapers and magazines and popular fiction?"
The latest Collins English Dictionary has included the word adorkable, which was chosen by users of Twitter from a shortlist of emerging words.
Data from Collins's database reveals that adorkable was first used on Twitter in March 2007, peaked in January 2012 and has now settled into a steady pattern of use.
The word is said to be slang for "socially inept or unfashionable in a charming or endearing way" - I wonder why they chose that one?