Still Game live show marks TV return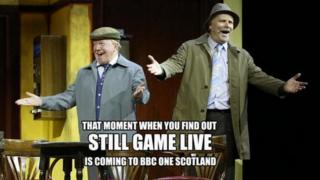 The cast of popular BBC comedy show Still Game are to return to TV screens next month with an hour-long version of their record-breaking live show.
The reunion of the sitcom for a 21-night run at Glasgow's Hydro arena, which finished two weeks ago, was watched by more than 200,000 people.
A shortened version of the show will be shown on BBC One Scotland on Friday 7 November at 21:00.
A DVD of the full show will be released later next month.
Forty-four episodes of Still Game were broadcast over six series from 2002.
In the show, Ford Keirnan and Greg Hemphill played Jack Jarvis and Victor McDade, two foul-mouthed pensioners spending their days disreputably in the fictional Glasgow housing scheme of Craiglang.
Kiernan and Hemphill, still only 52 and 44, are much younger than the characters they portray, despite it being seven years since the TV show was last recorded.