NHS Scotland finding it 'difficult to cope'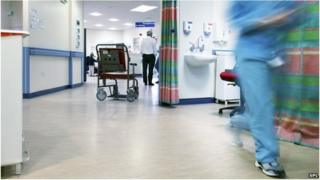 The NHS in Scotland is finding it "increasingly difficult to cope" with the "significant pressures" being placed on it, according to a watchdog.
Audit Scotland said NHS budgets were tightening at the same time as demand for health services was increasing.
And it said the NHS had not met waiting time targets, and may not be able to do so in the future.
Health Secretary Alex Neil said the Scottish government's long-term vision for the NHS would be "refreshed".
This was to ensure it "reflects the increasing demands from patients and the new way services will be delivered under health and social care integration", he said.
The Audit Scotland report said progress towards the Scottish government's vision of a more community-based health system by 2020 had been "slow".
'Rising expectations'
Organisations which represent doctors and nurses in Scotland called for an "honest debate" about the future of the NHS after Audit Scotland said the health service could not continue to provide its existing level of service.
In its report, Audit Scotland said NHS boards' revenue budgets increased by just over 1% in real terms in 2013-14, and smaller real terms increases were planned from 2014-15 onwards.
It said: "Cost pressures, such as staff pay costs, the growing costs of drugs and other health technologies and rising pension costs, exacerbate this tight financial situation.
"At the same time, the demands on the NHS are increasing as a result of demographic change, particularly the growing population of elderly and very elderly people; the number of people with long-term health conditions; and people's rising expectations of healthcare."
The report said the NHS had made good progress in a number of areas, including improving outcomes for people with cancer or heart disease and reducing healthcare-associated infections.
But it said it would be "challenging" for the NHS to make the scale of changes required to meet the Scottish government's "ambitious" vision for health and social care, which aimed to enable everyone to live longer, healthier lives at home or in a homely setting by 2020.
The report said: "Progress has been slow and more significant change is needed to move more care into the community.
"The NHS will not be able to continue to provide services in the way it currently does. Change on this scale will be challenging at the same time as NHS boards are expected to meet demanding targets for hospital care and when budgets are tightening."
Audit Scotland also highlighted the fact the NHS in Scotland had not met waiting time targets, and said it may not be able to meet them in future.
A guarantee to treat patients within 12 weeks has never been met, and only three out of nine other key waiting targets were achieved by all health boards.
'Not sustainable'
The report said the NHS may have to focus on other targets in order to cope with the pressures of an ageing population.
Overall, NHS boards in Scotland delivered a small surplus of £23.4m against an overall budget of £11.1bn.
But although all boards met their financial targets, Highland, Orkney, Tayside and NHS 24 required financial bail-outs from the Scottish government in order to break even, while a further five had to rely on high levels of non-recurring savings.
After inflation is taken into account, the health budget will reduce by 0.9% over the next two years.
Health boards, which fund the majority of health services for people, will see a small increase in their budgets of 1.1% but this will be offset by the rising costs of healthcare.
The report points out health service costs have risen by an average of 3.6% a year, compared to general inflation at 2% a year.
Responding to the report, Mr Neil said protecting front-line health services was an "absolute priority" for the Scottish government.
'Changing needs'
He added: "This report highlights the pressures the NHS is facing as it continues to treat more people than ever before, who have more long term conditions. Audit Scotland rightly notes that the Scottish government recognises these issues and has set out a long-term vision for the NHS.
"But we need to make sure our plan develops to meet the changing needs of the people of Scotland and delivers our overall objectives of being a top modern healthcare service that provides quality care, improves the health of the Scottish public and tackles inequalities.
"By evolving the long-term plan for NHS Scotland, this government will ensure that Scotland continues to have an NHS that it can be proud of today and in the future."
Dr Peter Bennie, chairman of the BMA in Scotland, said: "An honest, public debate about what needs to change to make the NHS sustainable in the long-term is urgently required and politicians must have the confidence and determination to make the difficult and perhaps unpopular decisions that may follow."
Theresa Fyffe, director of the Royal College on Nursing in Scotland, said: "When patient care suffers because health boards are trying to make ends meet, it's obvious something is going wrong.
"People are being moved from ward to inappropriate ward because of a lack of space or shortage of care available at home or are waiting longer for treatment and turning to A&E just to gain access to the healthcare they need. On top of this, vacancy rates across the NHS are on the rise.
"The Scottish government needs to look at the consequences of requiring health boards to meet financial targets on an annual basis and allow them to take a more long term approach which doesn't put at risk standards in patient care."