Vegan-friendly city going 'whole hog' as 70th anniversary marked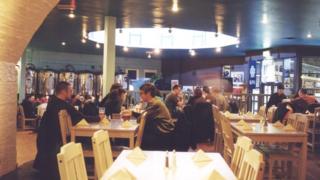 For Beyonce it was just a fad, for Bill Clinton a ticket to better health after a heart attack, for his former deputy president Al Gore it was perhaps the logical next step in his campaign to save the world from environmental disaster, for its disparagers just the latest diet craze.
But, for its most committed adherents, it is a lifestyle, a belief system leading to a better, more compassionate world.
And, on the 70th anniversary of the term vegan being invented through the creation of the Vegan Society, its most passionate advocates believe the movement is at last coming of age.
Today, up and down the United Kingdom, events will celebrate World Vegan Day, the start of World Vegan Month.
No more so than in Glasgow, which was last year named the nation's most vegan-friendly city by the People for the Ethical Treatment of Animals (PETA) charity.
That the "dear green place" was deemed to have surpassed Brighton - England's shining light is so Green that its town hall is run by the party of that hue - has much to do with vegan venue king Craig Tannock.
The 54-year-old started off from humble beginnings in a Glasgow backstreet basement where he and some fellow musicians set up a cafe/bar combined with a recording studio called the Apollo, now the Flying Duck, in 1991.
Now his mini empire includes four cafe-bars - Mono, Stereo, the 78 and Flying Duck - each doubling as a vegan eatery and music/arts venue and offering special menus on World Vegan Day, along with Stereo's Old Hairdressers offshoot.
On the way, he established the vegetarian 13th Note venue, while former colleagues branched off to run the vegan Saramago at the Centre for Contemporary Arts.
"It wasn't a business decision to make the kitchen vegan at the Apollo," Mr Tannock explained.
'Veggie ghetto'
"I have been vegan for most of my life and did not want to be doing anything that wasn't vegan and in the late 80s and 90s the women's co-operative that ran the Bay Tree cafe served vegan food and it was rammed, which gave me confidence to go the whole hog.
"I don't try to convert anyone and we never use the V sign, only a footnote on our menu that we don't use animal products.
"We don't want to exist in a veggie ghetto - just provide tasty good food at a reasonable price. Indeed, most of our customers are not even vegetarian, never mind vegan."
However, the Vegan Society believes the number of adherents in the UK will now be significantly more than the 1% of the population estimated in the 2012 National Diet and Nutrition Survey.
"People like Yotam Ottolenghi have brought more culinary credence to the use of vegetables and grains," said Mr Tannock.
"The environmental issue is huge and the realisation of how destructive methane is has brought radical politics into the mainstream.
"People are feeling they have to cut down on animal products because the current animal industry is completely unsustainable, while the big driver is the realisation that they should not be eating these things and they are not too healthy either."
Social media groups such as Vegan Edinburgh Glasgow on Facebook have also grown rapidly and found an increasing number of "omnivore" establishments catering for their regular socials when once they struggled to find any vegan options at all.
Although not himself a vegan, John Quigley already knew something about providing plant-based food while catering on the road for rock stars Paul McCartney, Morrissey and Bryan Adams before making the Red Onion restaurant his base.
"We were asked if we could provide a vegan menu for a 60th birthday and it went a bit viral from there," he explained. "We had such a high demand that we created a separate vegan menu, it's been a huge success and I've noticed other restaurants following suit."
Glasgow is not the only UK city to be making its mark in the vegan world, with London having been named in the top five vegan-friendly cities in the world - behind Berlin, New York, Portland and San Francisco - by the Happy Cow website.
Britain's capital was also the venue for a weekend show that claims to have helped persuade to go vegan nearly a third of its visitors who were either vegetarian or meat-eaters before attending.
"It's amazing to see so many people go vegan at our London event," said VegfestUK founder and manager Tim Barford.
"We estimate that 900 people have made the decision to go vegan at London this year, with a further 100 going veggie and a massive 1,150 people now choosing to reduce their meat and dairy consumption."
Mr Barford used his background in "the Stonehenge crew and free festivals in the 70s" to establish Vegfest in his home town of Bristol in 2003 to combine his twin passions - veganism and festivals.
"Veganism for a lot of people is very serious and can be quite judgemental and get up some people's noses, with quite a bit of anger and frustration at the way we treat animals," he admitted.
"But we have tried to introduce a lot of humour and rock and roll into it."
So much so that the likes of former Joy Division and New Order bassist Peter Hook, Happy Mondays, 808 State and The Farm have played gigs at Vegfest events, which have also featured top comedians such as Sara Pascoe, Dave Spikey and Andrew O'Neill.
Celebrity endorsement is important, says Mr Barford, to break the "vegan stereotypes" and others to have lent their support are former Everton and Swansea City footballer Neil Robinson and world-class strongman and bodybuilder Patrik Baboumian.
However, of those who told VegfestUK they would be changing their diet after their London event, half said their main motivation was improving their health, 30% highlighted the environmental impact of meat and dairy, while only 10% had harm inflicted on living creatures as their main concern.
Seventy years since Donald Watson called a meeting of five other non-dairy vegetarians to form the Vegan Society, it seems its message about animal welfare and animal rights is less of a driving force towards the lifestyle's growing popularity than other factors.