World War One at Home: How Erskine hospital went out on a limb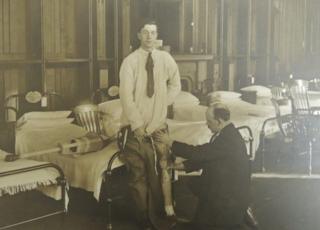 Erskine hospital in Renfrewshire was set up in 1916 specifically to treat soldiers who had suffered the loss of a limb during World War One.
The creation of the Princess Louise Scottish Hospital for Limbless Sailors and Soldiers at Mar Hall was driven by Sir William Macewen, one of Scotland's most pre-eminent surgeons.
At that point, artificial limbs were mainly sourced from overseas, a situation which Sir William found less than satisfactory.
"He felt the best way forward was for Scotland to establish its own limb manufacturing service here at the Erskine Hospital," says consultant physician Professor Ken Paterson.
Macewen created some of the first artificial limbs to be designed and made at Erskine Hospital but he also formed a highly unique partnership.
Prof Paterson says: "He spoke with a number of the owners of the large Glasgow shipyards on the Clyde, including Yarrows.
"He persuaded them to free up some of their craftsmen such as cabinet-makers who would normally have been fitting out luxury liners - but whose services were not much needed in wartime. Those craftsmen then began artificial limb manufacture at Erskine."
The early limbs were very simple: a basket made of willow and leather into which the stump of the upper leg was fitted.
On the bottom of that was a long piece of wood, terminating in a rubber ferule.
The wood was very light, the limbs being made of willow - something that found favour with many of the men as it enabled them to get around quickly.
"The men who came back from the war to Erskine Hospital were seriously injured and potentially had no future," says Prof Paterson.
"By providing them with an artificial limb they had mobility and they also received career training here at the hospital. So they left mobile and with a potential new career which allowed them to resume their lives."
Prof Paterson says Sir William was probably Scotland's "most distinguished ever surgeon".
He was born in Port Bannatyne on the isle of Bute, trained in medicine in Glasgow then went on to become a surgeon, initially working at Glasgow Royal Infirmary. He then became Regius professor surgery at Glasgow University and moved over to the Western Infirmary.
'Kick-off interest'
Prof Paterson says: "Sir William Macewen really had not, at that stage, any major experience of prosthetic or orthotic provision at all. I think this is something that he came newly to.
"He went to the English hospital at Roehampton and met with some people who were responsible for artificial limb provision down there. He came back and thought the best way forward for Scotland would be to establish its own limb manufacturing and limb fitting service here at Erskine hospital
"He then went ahead and designed himself the very early limbs which were manufactured and first fitted here at the hospital."
One of the exhibits on display at Mar Hall, now a luxury hotel, is a carved hand which was made by one of the recuperating patients at the hospital workshop.
"Eventually it came to the point where some of the patients were able to pick up on the manufacture of these limbs because they had had appropriate training. The hand is an example of the kind of craftsmanship that was then extent.
"Another example is a model of an artificial limb. This is a relatively late artificial limb which has a proper foot and proper lower leg to give a good cosmetic effect and a mobile knee joint."
Prof Paterson says: "The Erskine/Yarrow technology from 1919 I don't think would be recognisable today to most people with prosthetic limbs.
"But what I think it did do is kick-off an interest in prosthetic or orthotics in Scotland - an interest which persists to this day.
"We have departments of bio-engineering, departments of prosthetic and orthotic provision, at major Scottish universities and they are still making advances in what are now very fancy electronic and bionic limbs."