Royal Marines parade as they receive Freedom of Glasgow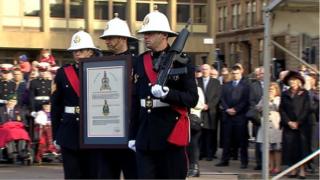 The Royal Marines have paraded through Glasgow after receiving the Freedom of the City.
The honour marks the Royal Marines' long association with city, as well as the Corps' 350th anniversary.
Lord Provost Sadie Docherty awarded the honour to Commandant General, Major General Martin Smith, at a special ceremony in George Square.
She said: "I am proud and thrilled to be granting Her Majesty's Royal Marines the Freedom of the City."
She added: "Glasgow appreciates its military and these select sea soldiers have a special place in our hearts.
"This is a milestone year for the Royal Marines as they celebrate their 350th birthday and our city's historic links with this legendary amphibious regiment, acknowledged as the first and finest in the world.
"Glasgow is home to the Corps earliest Reserve Unit. The granting of the Freedom of the City is the culmination of a memorable year for the Royal Marines and Glasgow."
More than 100 commandos took part in the parade, including the Clyde-based 43 Commando Fleet Protection Group, The Band of Her Majesty's Royal Marines Scotland, veterans and Royal Marine Cadets from the Glasgow area.
Major General Smith said the Marines were "humbled" to have the freedom of the city of Glasgow conferred on them.
He added: "It is with particular pride that the commandos parade through the streets of Glasgow on this occasion, marking this historic milestone in the long history of the Corps and its relationship with the city.
"I am honoured to be able to present my officers and marines to the Lord Provost during this our 350th year and we couldn't be more proud to exercise this honour in Glasgow, a maritime city with which we have such a strong bond."
Comedian Billy Connolly was the last person to receive the honour from Glasgow in 2010.
It is awarded to "persons of distinction or persons who have rendered eminent service to the city".