Stars in their eyes: The double lives of Scotland's tribute acts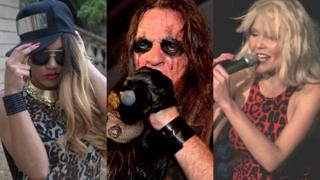 Tribute acts are hugely popular on Scotland's entertainment circuit, sometimes selling out the best venues in the country. BBC Scotland's Viva Variety meets three acts to find out what makes them want to be someone else.
---
Dr Sarah Kennedy is Debbie Harry
Dr Sarah Kennedy spends her days as a psychiatrist at St John's Hospital in Livingston but at night she has an alter-ego.
Sarah is the front woman in Scotland's first Blondie tribute act, Dirty Harry.
The 36-year-old, from Edinburgh, says that if she were to give a psychiatric diagnosis of herself, she would be "on the obsessive spectrum".
She says being pedantic and a perfectionist are "ideal personality traits for being an impersonator".
Getting the Debbie Harry "look" means Sarah has to spend thousands of pounds every year on costumes, wigs and make-up.
The outfits are a major part of the tribute act's show.
"The audience automatically gives you that something else that I would not get if I went up dressed as me and sang a Blondie song - even if I was singing in exactly the same way," Sarah says.
In her late-1970s heyday Debbie Harry was considered one of the sexiest women in the world so Sarah has quite a reputation to live up to and she says the clothes help.
"I think if I went up as myself I would look pretty egotistical, whereas in the role you get away with so much more."
"It is pretty hard not to feel sexy in thigh-high leather boots," she says.
"You have got to embrace it," she adds.
"Once the illusion is shattered and I speak in my own accent I don't feel quite as sexy."
Blondie fans can be found all over Scotland so Sarah and her band of four musicians are not short of gigs but they can often be performing for as little as £100 each.
She says: "For me it is least about the money and more about the experience and getting to play great gigs."
So where does Sarah end and Debbie begin?
"I increasingly get asked to sign things. I can't sign as Sarah because if I do it looks like I have signed someone's prescription.
"I signed some as Doctor Dirty and then I thought I hope the GMC (General Medical Council) don't get hold of that."
---
Peter MacLean is Gallus Cooper
Father-of-three Peter MacLean, from Jordanhill in Glasgow, is the frontman of Gallus Cooper - Scotland's only Alice Cooper tribute act.
Like Dr Sarah, Peter says that tribute acts have to be "perfectionists".
"I think you have got to look at how good you can get something," he says.
This creates a problem for Peter as Alice Cooper is famous for his extravagant stage shows which involve all manner of props and live animals.
However, while tickets for Alice Copper's shows cost at least £50 his Glasgow tribute can be seen for under a tenner.
"It is shock rock on a budget," says Peter.
Despite the cost restrictions Gallus offers one of the most elaborate tribute performances in Scotland.
Peter even has his own "props-master" in 57-year-old psychiatric nurse Bill Crow.
Bill says: "Apparently I am the perfect stereotype of an Alice Cooper fan - they are either in mental health or receiving mental health treatment."
To keep up with Alice's spectacular show on a budget Bill has built a new centrepiece for Gallus's climax. Peter is going to be hanged from a 12ft scaffold.
"We have pushed ourselves to try to do a high level show to try to take it around the UK and abroad," says Peter.
"You can't do that unless it is as near perfect as you can make it."
---
Amy Craik is Rihanna
Pop star Rihanna was raised on the beaches of Barbados. For 22-year-old Amy Craik it was the beaches of Troon in Ayrshire.
By day, Amy is a student who works in her local chip shop. But every other weekend she transforms into one of the most successful female singers of all time.
She says Rihanna has been her idol since she was young teenager.
"Because I love her and I love performing they go hand in hand," Amy says.
"I feel as if I have got a wee bit of an obsessive disorder, watching 'how has she done that twirl or how has she just shook her bum?'"
But while the real Rhianna plays to stadiums around the world, Amy often has to settle for social clubs.
One problem for Amy is that she has chosen to pay tribute to a pop star who has at least nine other tribute acts on the Scottish circuit.
Amy views it as hobby rather than job.
"The reality is it is going to end at some point. That's why I'm at college full-time studying doing HNC social care," Amy says.
However, when she gets on stage she feels like a star wherever she is playing.
"When you get up there adrenaline goes from your toes to your hair," she says.
"When I get on stage it's like it's not me any more. It's a different persona. That's the beauty of having an alter ego. as far as I'm concerned that's not me."
---
Viva Variety is on BBC One Scotland on Monday 10 November at 19:30.